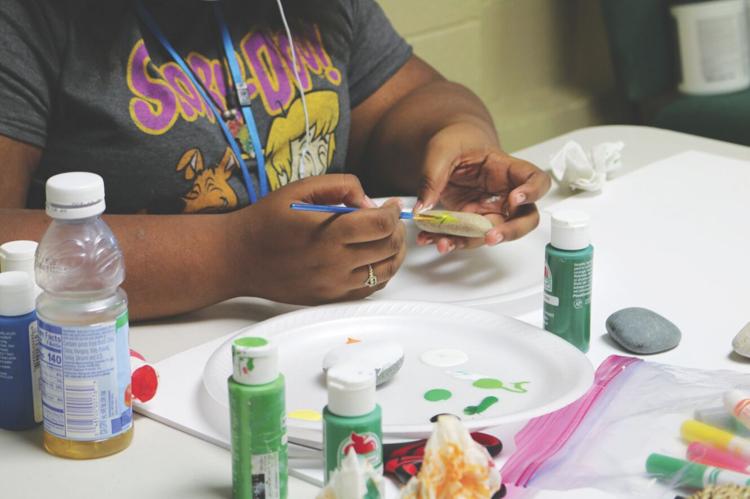 The Cooper-Anthony Mercy Child Advocacy Center held its first CHAMP, Children Healing from Abuse with Maximum Potential, Camp from July 27 to 30 at Northside Church of Christ in Benton.
It is an opportunity for CAMCAC clients to come together in community and enjoy safe and supportive fun.
CHAMP Camp is typically held for current and graduated therapy clients. Campers participated in daily, interactive and engaging groups on life skills topics that include: self-esteem, conflict resolution, goals and dreams, feelings and safety.
Daily activities can vary but include things such as interactive group games, journaling, music, and arts and crafts. CHAMP camp helps build connections between campers and staff and reinforces what the clients have learned in therapy. During this event, children wore masks and practiced social distancing.
"We were happy to be able to provide this event to our Saline County children, free of charge, as we did last week for Hot Springs," said Executive Director Tracey Childress. "Because of the generosity of our donors, we absorbed no cost. We are so thankful for them and blessed that we have communities willing to rally behind the families of CAMCAC."
The sponsors that CAMCAC would like to recognize are: CHI St. Vincent, Allstate, Everett Buick GMC, Saline County Children's Dentistry, Regions Bank, Garver, Jordan C. Woolbright, Robinson & Associates Insurance and Northside Church of Christ.
CAMCAC's mission is to utilize a multidisciplinary team approach to providing a safe, child-friendly and caring place where children are assessed when allegations of child abuse arise. This approach includes law enforcement, Department of Human Services, Crimes Against Children Division and the Child Advocacy Center. CAMCAC currently has an office in Hot Springs and two satellite offices in Benton and Mena and serves six counties: Polk, Montgomery, Garland, Saline, Hot Springs and Grant.