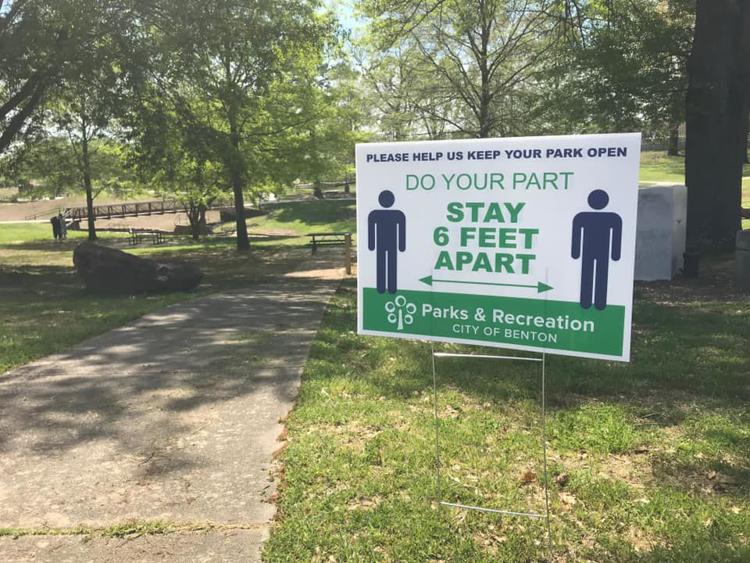 With Benton Mayor Tom Farmer issuing a proclamation enacting a stay-at-home order for juveniles, the Benton Parks and Recreation Department has also closed a number of facilities to the public.
As part of Farmer's proclamation, the mayor declared that all city owned or operated buildings will be closed to the public until otherwise ordered, but for no longer than 120 days. A number of parks facilities have already been closed or open with limited access over the past few weeks, due to COVID-19. With the proclamation, a number of facilities have been added to the closure list.
"Our Benton Parks and Recreation team analyzed state and national level actions regarding potential risks of COVID-19 within parks facilities," said Parks Director Stephanie Jones in a social media post. "We are working with Mayor Tom Farmer, our local police and fire departments and our local health care providers to do the best we can to keep our community safe. Unfortunately, this requires closing down some areas of our parks system that could pose an increased risk of exposure to COVID-19."
The updated list of closures includes the following:
• River Center.
• Bernard Holland Complex Baseball and Adult Softball Fields.
• Ralph Bunche Park Basketball Courts.
• Riverside Youth Softball Complex.
• Riverside Dog Park.
• Riverside Soccer Complex.
• Tyndall Park Jr. Disc Golf Course.
• Tyndall Park Skate Park.
• Tyndall Park Inclusive Playground.
• Tyndall Park Tennis Courts.
• Tyndall Park Basketball Courts.
• C.W. Lewis Stadium.
Jones said that the parks department is still encouraging residents to stay active and take advantage of walking trails and open green spaces, but reminds residents to avoid touching surfaces and playground equipment.
The areas still open for public use include:
• Riverside Park trail.
• Tyndall Park trail.
• Sunset Lake trail.
• Hooked on Fishing.
• Lyle Park.
• Lake Norrell boat access.
"These decision have not been easy to make," Jones said. "I am hopeful that if we follow the guidelines in place from the (Center for Disease Control and Prevention) we will not be shut down long. We appreciate your patience during this time and hope to see you soon."