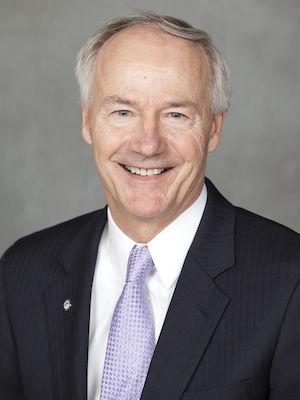 Gov. Asa Hutchinson announced during his daily briefing Wednesday the resumption of some elective procedures, along with the dates when the state will make decisions on allowing a number of businesses to reopen. 
"It is important we do this sequentially. It is important we do this in a way we can measure," Hutchinson said. 
He believes the state is still on the right path to begin phase one of reopening May 4. 
Beginning Monday (April 27), clinics and hospitals will be able to resume offering some elective procedures as long as they follow all the guidelines.
To start with, hospitals will only be permitted to do out-patient procedures. They will not be allowed to do anything that requires the patient to stay overnight. The patient must not have COVID-19 symptoms or have been in contact with anyone with the disease within the last 14 days. The patient must have also undergone COVID-19 testing within the last 48-hours and results must come back negative. 
Smith answered a question about recently approved at-home tests, saying if a clinic wants to accept an at-home test, that may work. He added that providers may want the sample collected on site. 
Smith said elective procedures would start small to ensure there is still sufficient personal protective equipment available. 
Hutchinson also gave a timeline to make reopening decisions. 
On April 29, he will announce if restaurants can reopen to some sit-down dining. He will announce his decision on gyms April 30, barber shops and salons May 1 and places of worship and larger venues May 4. 
Even when things begin to open, Hutchinson cautioned that people will still need to practice physical distancing. 
"Be diligent to make sure we do what we need to do to protect ourselves and others," Hutchison said. 
He said the goal is to achieve balance in opening the state. 
In answer to a question, he said while he has been in discussions with other states, Arkansas' timeline does not necessarily match up with theirs because it is based on Arkansas data. 
When asked about abortion clinics, Hutchinson said this directive to open, like the one to close, is not directed at any particular clinic. 
Smith added that all clinics must follow the criteria to open. 
Hutchinson said even as the state opens up into phase one, travel will continue to be discouraged. 
Hutchinson and Smith were asked about an Institute of Health Metrics and Evaluation model that said Arkansas should not begin opening up until June. Smith said that model relies on the idea that states should open when they get down to only one case per 1 million people. Smith said in Arkansas that would be three cases. 
"It doesn't make sense for a state like Arkansas," he said. 
Smith said patients and clinics should only use approved antibody tests, but cautioned they are not meant to diagnose the virus. They can only tell if a person had a virus. He said they could be useful to determine if someone can give plasma to be used in COVID-19 treatment. 
For those who believe they have the virus, they should use a PCR test. 
"It is a matter of the right tool for the right job," Smith said. 
He reported that the state is in good shape regarding personal protective equipment, which is why the governor is opening up elective surgeries. Stocks are still coming in as well.
As of press time, confirmed cases had risen to 2,438 with 898 recoveries and an additional death, raising that total to 44.
Of the confirmed cases, 1,496 are active positive cases.
In Saline County, positive cases have risen to 49 while 29 have recovered and 646 have tested negative for the illness. 
Also, deaths remain at one locally.
Currently, there are three COVID-19 testing sites in Saline County, including Baptist Health Urgent Care, located at 3304 Commonwealth Dr. in Bryant, Baptist Health Urgent Care, located at 824 Military Rd. in Benton, and ARCare, located at 630 W. South St. in Benton.
Thus far, 31,563 tests have been administered with 29,125 returning negative statewide.
Across the nation, 842,624 cases have been confirmed with 76,614 recoveries and 46,758 deaths. Active positive cases on the national level currently sits at 719,225.
The Saline Courier will continue to follow the pandemic. Updated numbers will be reported at www.salinecourier.com following Hutchinson's daily briefing at 1:30 p.m. today.