BRYANT – The Bryant Lady Hornet cheer team is sending yet another cheerleader to Arkansas State University for the second consecutive year. On Wednesday, senior Grace Ouellette signed to cheer for A-State, a year after former teammate Jaclynn Greenwood signed. 
A-State wasn't Ouellette's first choice, though. 
"For awhile it was between Arkansas State and another school," Ouellette said. "I ended up choosing the other school and decided to go with it. I went down and tried out and I didn't make it."
But, Ouellette got in touch with her former teammate at A-State to see her options.  
"I have a friend (Greenwood) going to Jonesboro and texted her to let her know I didn't make it," Ouellette said. "I was upset because I had worked really hard for a long time to get to where I need to be to cheer at the collegiate level. She told me to email the coach to see if there were any possible positions because they had already had tryouts. I decided to email her, take the shot, what could it hurt, and she was willing to talk to me."
That Arkansas State cheer coach is Paige Pauley and she was sold on Ouellette's talent.  
"We did a try-out process over email with videos and two days later I made the team," Ouellette said. "What really made me choose A-State is the fact I'm not 100 percent sure what I want to major in, not 100 percent sure what I want to do when I grow up, but I know I worked really hard to get to where I need to be to cheer at the collegiate level."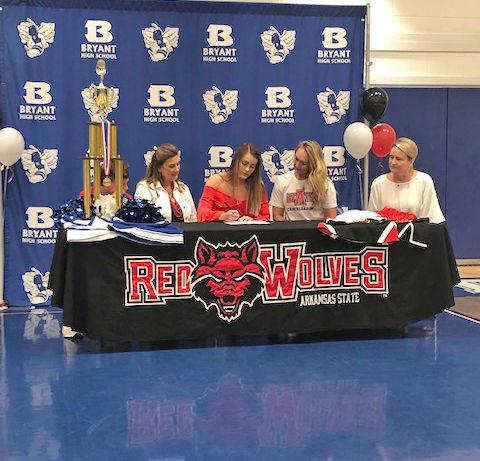 Bryant cheer Coach Karen Scarlett can attest to Ouellette's hard work.  
"She is a fantastic cheerleader and student," Scarlett said. "She worked extremely hard this year preparing for college cheer and when her first choice didn't work out, she decided to explore other options and ASU became the right choice and place for her to continue her academic and cheer career.  
"Grace set a goal to get her full for college tryouts and she did it. I was so proud her her work ethic and fight to achieve her goal. She is a definite asset to the ASU team and I am excited to watch her on the sidelines and then compete at college nationals."
Ouellette has been a part of some pretty successful Bryant cheer teams. 
"We've competed every year on Bryant varsity cheer," Ouellette said. "We've gone to nationals every year. My 10th-grade year we were the runner-up for the 7A division at state and then we went to Nationals in Orlando, Florida, and got first place in our division. 
"We've gone and competed at state and placed consistently in the top 10 in state and nationals the past two years."
Ouellette, who eventually plans to become a meteorologist, explained her strengths as a cheerleader.  
"I think I'm a really good back spot," she said. "I have good tumbling as well, but definitely think (back spot) will be my strong suit going in to cheer at Arkansas State."