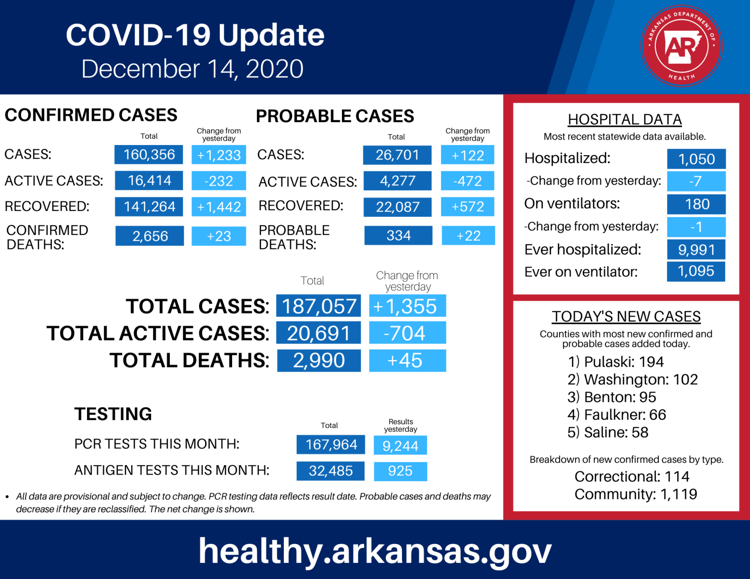 Arkansas Department of Health numbers show 1,233 new confirmed cases of COVID-19 for a confirmed cumulative total of 160,365 cases with 16, 414 confirmed active and 141,264 recoveries.
Hospitalizations dropped by seven to 1,050 with 180 on ventilators.
Confirmed deaths rose by 23 to 2,565 and probable deaths rose by 22 to 334.
ADH reported 122 new probable cases for a probable total of 26,701 with 4,277 probable active cases and 22,087 recoveries.
The state received results for 9,244 PCR tests and 925 antigen.
The counties with the most new cases are Pulaski with 194, Washington with 102, Benton with 95, Faulkner with 66 and Saline with 58.
Saline County has had 6,193 cumulative cases — 5,022 confirmed and 1,171 probable. Active cases are at 820 — 632 confirmed and 188 probable. There have been 5,294 recoveries — 4,319 confirmed and 975 probable. The county has had 78 deaths — 70 confirmed and eight probable.
Nationally, there have been 16,520,408 cases with 6,399,531 recoveries and 300,531 deaths.
"Today is a hopeful day. After months of work, a COVID-19 vaccine is in Arkansas, and the first vaccine was given to Sherian Kwanisai (Monday)," Gov. Asa Hutchinson said in the release. "The FDA should approve additional vaccines soon, and we will be set to cover our long-term care facilities. Brighter days are ahead, but we must continue to follow public health guidelines. This virus continues to rapidly spread, and it's up to each of us to do our part to slow the spread."
Hutchinson will give his weekly update at 1:30 p.m. today.