A Bauxite man arrested Wednesday after allegedly firing at a Saline County deputy has been given a $1.5 million bond, according to Saline County Prosecutor Chris Walton.
George Woffard, 61, appeared in Saline County District Court today.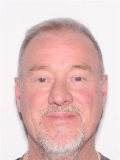 Walton said the state asked for $2 million in the case.
Woffard is charged with attempted capital murder and aggravated residential burglary, a class Y felony. 
On Wednesday, at approximately 3:45 p.m., deputies responded to the 12000 block of Chambers Road in Bauxite.
The 911 caller reported that a suspect was shooting recklessly from inside a residence and was continuing to fire what appeared to be multiple weapons. At one point, the caller stated that the suspect walked outside and was firing randomly.
Upon the first deputy's arrival, the suspect began firing multiple shots at him as he exited his patrol unit, striking the unit in the back door. Multiple other units arrived on scene only moments later. The suspect then threw his weapon down and fled on foot toward a nearby residence where he was intercepted by an Arkansas State Police Trooper who had responded to the scene. Subsequently, Woffard was taken into custody without further incident and no injuries were reported.
The Saline County Criminal Investigation Division is currently processing the scene.
Sheriff Rodney Wright would like to thank all agencies that responded to assist the Saline County Sheriff's Office. It is important to note that the area is now safe and there is no further threat.