With the first day of the 2020-21 school year looming, thousands of Arkansas citizens are raising concerns about students, faculty and staff returning the facilities amid the COVID-19 pandemic.
In an open letter dated today and addressed to Gov. Asa Hutchinson and many others — signed by more than 4,000 Arkansans — concerns have been raised regarding re-opening schools.
The first day is set Aug. 24 after being pushed back a number of weeks to allow for preparation for the school year.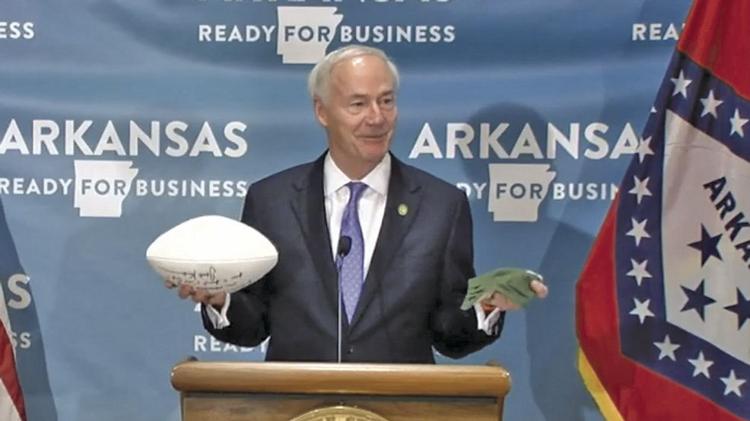 The letter is as follows:
Dear Governor Hutchinson, Commissioner Key, Secretary Romero, and State Board of Education Members:
As parents, guardians, and concerned family and community members representing all 75 counties in Arkansas, we stand with our public schools, our students, and our educators and support staff in demanding a safe, evidence-based approach to the reopening of Arkansas schools this fall. We are overwhelmingly concerned about schools reopening for in-person instruction, and are disappointed with the state's current Ready for Learning plan, with its lack of adherence to CDC guidelines and its failure to take into account the current state of rapid COVID-19 spread in our communities.
We do not feel safe sending our loved ones and neighbors to in-person schooling. We do not feel safe exposing the individuals in our homes who are at high risk of death or long-term health consequences from COVID-19. We do not feel safe putting our healthcare workers and entire community in even greater danger by opening the doors to our schools in less than 20 days. We are dismayed that you feel satisfied with the current plan for returning to in-person instruction on August 24, despite the Ready for Learning plan's serious deficiencies.
Given the spread of COVID-19 in Arkansas over the summer, the lag in testing and contact tracing, and the reliable UAMS modeling that predicts thousands of new cases per day this fall, we feel that the current school reopening plan is woefully inadequate, and will not keep our children, educators, support staff, and community members safe. The Governor's decision to change the rules at the last minute, requiring schools to offer five days a week of in-person instruction, seriously hampers districts' efforts to comply with CDC guidelines regarding social distancing. Furthermore, the state's lack of clarity about when a school building or district should be closed, and for how long, together with the requirement
that only the ADH has the authority to close a school, will prevent superintendents from making timely decisions regarding school closure. We need clarity, consistency, and the ability for school districts to make data-driven decisions, based on their area's COVID-19 transmission numbers.
We call for the Governor's Office, Arkansas Department of Education, Arkansas Department of Health, and State Board of Education to hold an emergency meeting to discuss and adopt the following recommendations for safe, equitable, and inclusive access to quality digital education during the course of the COVID-19 pandemic:
1. Phased-In Approach: Develop a phased-in approach for returning to in-person instruction, with a delayed start to provide time for planning and implementing a rigorous virtual curriculum. All Arkansas public school districts start with at least two weeks of virtual learning, and only begin in-person instruction as each county's COVID-19 community transmission numbers allow. The phased-in approach should consider the needs of children of essential workers, and other students who need face-to-face instruction the most, to return within the initial phases. Public school districts must be allowed to develop alternative scheduling models to fit their local contexts, in compliance with CDC opening guidelines. This may require allocation of state funds to provide adequate teacher:student ratios in both virtual and in-person environments, and not require teachers to deliver instruction through both methods or have increased class size -- remaining fully virtual through the duration of the COVID-19 pandemic is obviously the safer and more cost-effective option.
2. Defined Parameters for Closing: Add explicit threshold numbers to the Response Levels for Onsite Learning Guidance document as to when schools must close due to increased community spread of COVID-19. With the parameters clearly defined, superintendents should have the authority to close school buildings and pivot to distance learning.
3. Returning to Safe Schools: Ensure every Arkansas public school district has appropriate levels of PPE, disinfectant, and supplies in accordance with CDC recommendations. This may require an increase of state-procured supplies and allocation of state funds for a cleaning supply and PPE reimbursement for teachers and staff, and in classrooms without windows that open, must include, at a minimum, adequate air purifiers and box fans.
4. Continuation of Vital Services: Create a comprehensive plan to implement IEPs, 504 Plans, and Gifted EPs for online learning, including guidelines for providing video-based services, including speech/language therapy, occupational therapy, physical therapy, counseling, ESL services, specialized instruction, and nutrition services for distance learners. This should include an allocation of state funds for an increased supply of PPE and fully staffed paraprofessional support for the adequate and safe provision of special education services, both in-person and virtually, and a way for families to safely check out equipment or materials.
5. Education Equity for Virtual and Face-to-Face Learning: Establish a statewide collaboration between government entities, school districts, manufacturers, and service providers to broker and ensure universal access to devices and high speed internet for all students who need to engage in online learning, at low or no cost if not provided by their school district. Bus and school parking lot hot-spots are not a sufficient solution. This collaborative effort should also offer avenues for under-resourced students to access affordable (low or no cost) and high-quality academic enrichment services. The State should apply for waivers to suspend standardized testing for the fall 2020 semester so that resources can be directed toward remediation, growth, and safety of our children.
We know this coming year will be challenging for all of us — especially for our children, teachers, support staff, and school administrators. It will not be easy but we believe that our schools are more than capable of delivering a robust distance learning experience, while developing a plan that will allow us to reopen our school buildings safely, as local conditions allow. It is not too late to flatten the curve. It is not too late to make the hard decisions that will ensure our state's greatest asset — the next generation — isn't part of that curve. It is not too late to decide that sacrificing the lives and health of thousands of Arkansans is not a legacy you want to leave. Decide today to stand with us, to stand with our children.