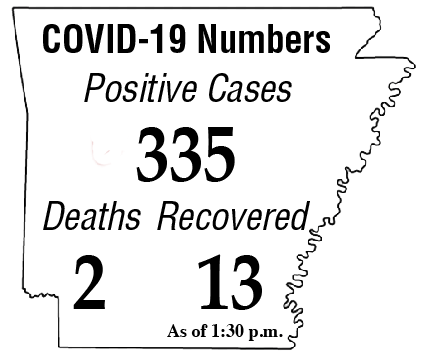 As tests continue to be completed regarding COVID-19 in the state, the number of positive cases continues to rise among Arkansans.
As of 1:30 p.m., the Arkansas Department of Health reports there are now 335 positive cases in the state, up from 310 as of 10 a.m.
Recoveries have also increased by one, totaling 13, while deaths remain the same with two.
In Saline County, the count still stands at one positive test while 42 have returned negative results.
Statewide, officials have tested 1,839 individuals with 1,504 returning negative.
Across the nation, 75,233 positive cases are being reported with 619 recoveries and 1,070 deaths.
According to The World Health Organization's most recent report (Wednesday), 413,467 cases have been reported across the world with 18,433 deaths.
Gov. Asa Hutchinson is expected to address the citizens of Arkansas at 2:30 p.m. today.