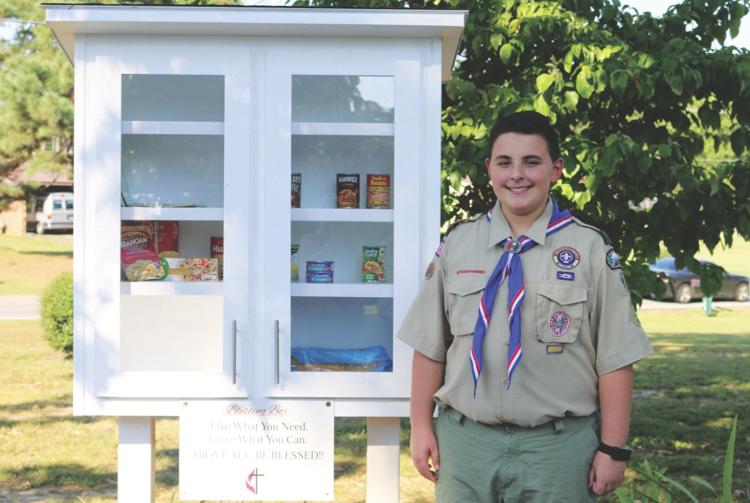 After beating brain cancer, one local Scout decided his next challenge would be to complete the requirements to earn the rank of Eagle Scout. 
At 14 years old, Nicholas Burrell, who attends Bryant Junior High School and is a member of Boys Scout Troop 99, has done just that. 
"It shows how hard I can work and shows what I had to get past to this point," Burrell said. 
His father, John McAlister, who is also a scout leader, said typically scouts are anywhere from 16 to 18 before they attain Eagle rank. 
Burrell became interested in Scouting when his class was shown a video in the third grade. 
"I thought it was interesting and fun," he said. 
He stuck with Scouts because he had already put in hard work to achieve the previous ranks. Currently, Burrell has 28 merit badges. 
He said earning his Eagle rank means a lot to him.
"After I had my battle with cancer, I realized I can't waste a day," Burrell said. 
Burrell was diagnosed with germinoma of the brain and spine when he was 12 years old. 
He underwent 26 rounds of radiation between May and June of that year at the University of Arkansas for Medical Sciences. He also received care at Arkansas Children's Hospital. 
His mother, Amanda McAlister, who is also a Scout leader, said they were grateful for the support they received during his treatment from doctors, staff, church, the Boy Scouts and people in the community. 
During his battle, he tried to follow Scout law and remain cheerful and focus on respect and loyalty so he wouldn't have to think about his cancer. 
The troop prayed for Burrell and visited him after he had surgery. 
"It is really the prayers that got me here today," he said. 
Now that Burrell has his Eagle rank, Burrell will be working to earn additional merit badges to be awarded Eagle Palms. 
Burrell was awarded his Eagle Scout range Aug. 31 during a ceremony at Geyer Springs Baptist Church, where the family attends. The ceremony included a 15-minute video of his scouting journey, including his battle with cancer. 
"It was pretty moving," Amanda said. 
Burrell's troop meets at Salem United Methodist Church, which is where he decided to build his Blessing Box he, with the help of his grandfather and other Scouts, made for his Eagle Scout project. 
One of the reasons he chose the project, he said, was because while doing research he learned Arkansas is one of the leading states with hunger issues. 
"I wanted to help," he said. 
The Blessing Box was recommended by Salem UMC Pastor Justin Ledbetter. Burrell felt the project both allowed him to help meet a real need and give back to the church is grateful for hosting the Scout troop. Burrell said Salem had wanted a Blessing Box but had not been able to put one in. 
The church had food and necessities ready to fill the box as soon as it was complete. 
He said the box was hard work, but he is proud of how nice it looks. 
Ridout Lumber, Discount Auto Glass, The Home Depot and Moody Cabinets donated to help create the box. 
Burrell's grandfather, Kevin Hunsley, an employee of Moody Cabinets, was the adult who led the projects. He used his cabinet-making experience to shape the box. 
Amanda said the Blessing Box is like an open food pantry. Anyone who wishes to donate can put food in. Anyone in need can take food out. 
"It can really help families in need," Burrell said. 
He believes scouting is preparing him for adulthood and the rest of his boyhood. 
Going forward, Burrell has two goals. The first is to mentor younger Scouts as they seek their Eagle rank. 
The second goal is to always live by the scout oath and Scout law. 
The law states "A Scout is trustworthy, loyal, helpful, friendly, courteous, kind, obedient, cheerful, thrifty, brave, clean and reverent. 
The oath is "On my honor I will do my best to do my duty to God and my country and to obey the Scout Law: to help other people at all times; to keep myself physically strong, mentally awake and morally straight."
When he grows up, he hopes to become a marine biologist. 
Burrell and his family agree Boy Scouts has been a benefit to him and helped him get through his fight with cancer. 
He hopes to encourage others who face hardships. 
"If a challenge comes up, you can let it tear you down or get up and keep fighting," he said.