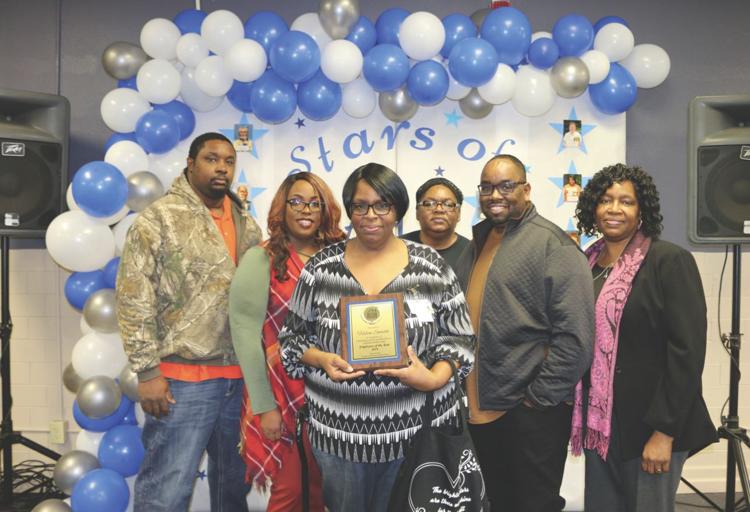 Arkansas Health Center honored its 2019 Employee of the Year at the Stars of AHC ceremony Friday. 
Throughout the year, AHC selected an employee of the month from support services and another from clinical services. The employee of the year was selected by the employee recognition committee from that pool of 24. 
All 24 employees of the month were recognized at the event. 
AHC Director Gary Gipson announced Helen Smith as the 2019 Employee of the Year.
Smith, who was employee of the month for July, is an institution services assistant who has been with AHC for 20 years. 
"I am thrilled," Smith said. "I just appreciate all of them. We are like one big family."
Gipson said there are many reasons the committee selected Smith. 
"She is always encouraging," he said.
He added that no matter the situation, Smith always has a smile on her face and lifts people up. 
"I don't see how you can be in bad mood around Helen," he said. 
Committee Chairperson Kristi Crow said Smith is always friendly.
"We are grateful to have her at AHC," she said. 
As employee of the year, Smith received a variety of prizes, including a cabin retreat, a fishing trip, dinner at Wood Grill Buffet, dinner at Larry's Pizza and other gift cards. 
The sponsors for the AHC Recognition Program are Backyard Creations, Better Nail and Spa, Chick-fil-A, Cinemark, Friends of AHC, Haskell Hilltop, Mount Eagle Retreat, Pasta J's, Roy Hale, Samme Wallace, Smile Dental, Sonic, Splash, The Cabin 3H, Tire Town and Wood Grill Buffet. 
Before the announcement of employee of the year,  Department of Human Services Deputy Director of Youth and Families Keesa Smith spoke. 
She challenged employees to break down the idea that every day has to be the same. She told them to take care of themselves and go into the new year forgetting about the mistakes of the previous year. 
She said she knows they are all servant leaders because of the occupation they chose. 
AHC is a division of the Aging, Adult and Behavioral Health Services through DHS.