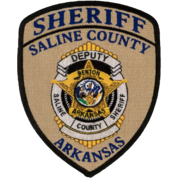 Members of the Saline County Fraternal Order of Police Lodge 73 are collecting donations for a Saline County deputy following his cancer diagnosis. 
Deputy Jack Campbell, who is the Saline County Sheriff's Office's only code enforcement deputy, handles all complaints about animals and other issues, said Lt. Joe Traylor, spokesperson for the SCSO. 
Campbell has worked for the SCSO since 2013 and has been a law enforcement officer since 1999. In 2018, Campbell was awarded the Law Enforcement Office of the Year Award by Arkansas Attorney General Leslie Rutledge. 
"Jack has always gone well above and beyond his call of duty to help anyone that he was able to, and it's time that we do the same for him," Traylor said. 
Two months ago, Campbell was diagnosed with throat cancer. He is undergoing daily radiation treatments and weekly chemotherapy.
"The financial burden placed on Jack has also been tremendously difficult because many of the prescribed medications are not covered by the insurance provider. He also drives himself to and from the hospital in Little Rock every day and averages 300 miles per week on his vehicle," according to the GoFundMe page started in Campbell's honor. 
Campbell is also the primary caretaker for his mother, but because of his treatment, aromas cause him to become nauseated, and he is unable to prepare meals for her. 
"Deputy Jack Campbell embodies the very essence of what we should all strive for, both professionally and personally. From a professional standpoint, Jack is one of the most multi-faceted deputies in my department. He is a can-do guy and never a can't-do guy.  His absence from the Saline County Sheriff's Office during these trying times has left an incredible void," said Sheriff Rodney Wright. "From a personal standpoint, Jack's friendly, empathetic, compassionate and caring way is missed by all.  Genuine people don't come around often in one's life. If you find someone real enough to stay true, keep them close.  We continue to keep Jack Campbell close and in our prayers. I ask everyone to please keep Jack in your hearts and minds as he fights the most difficult battle of his life."   
Those wanting to donate may visit the GoFundMe page at https://bit.ly/2OCfECD or visit any First Security Bank branch. 
A link to the GoFundMe page is also available on the Saline County Arkansas Sheriff's Office Facebook page.