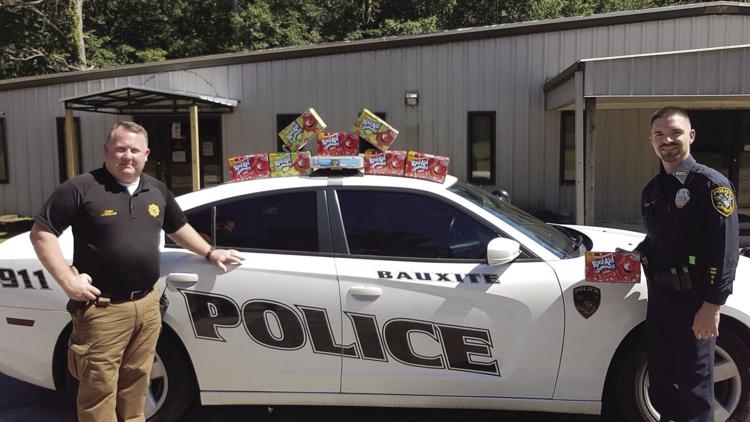 The Bauxite Police Department is working to building relations in the community one drink at a time with Operation Juice Box, which began Friday.
"Operation Juice Box is a nonprofit that serves law enforcement throughout the United States to bridge the gap between law enforcement and the community," Officer Cody Jones, who is coordinating the project for Bauxite, said.
He added the goal is to let the community know the department is their to serve and protect.
"Operation Juice Box provides deputies and police officers with juice boxes and other small items to pass out to the kids in the areas they patrol," the organization's description reads.
Jones had long followed the organization through Facebook. He recently came across it again and decided to reach out.
Bauxite has received its first 100 boxes of Kool-Aid Jammers. As the department runs out, Operation Juice Box will provide more. Members of the community have started reaching out to donate drinks also.
The officers plan to put the drinks in coolers to keep in their vehicles. They will drive around the neighborhoods and stop and interact with children. This will allow them to build relationships.
Jones would like to hold a community event closer to the start of the school year with the fire department and others as another bridge builder.
Jones said Operation Juice Box is an awesome organization.
Bauxite is the first department in the state to partner with the organization. Jones would like to see departments across Arkansas get involved.
He said the officers are spreading love in the community. He wants people to know officers are here for them.
He encourages anyone wishing to support the organization's efforts to donate through the Operation Juice Box Facebook page or drop drinks off at Bauxite City Hall. He wants to see people reach out to get other departments involved.