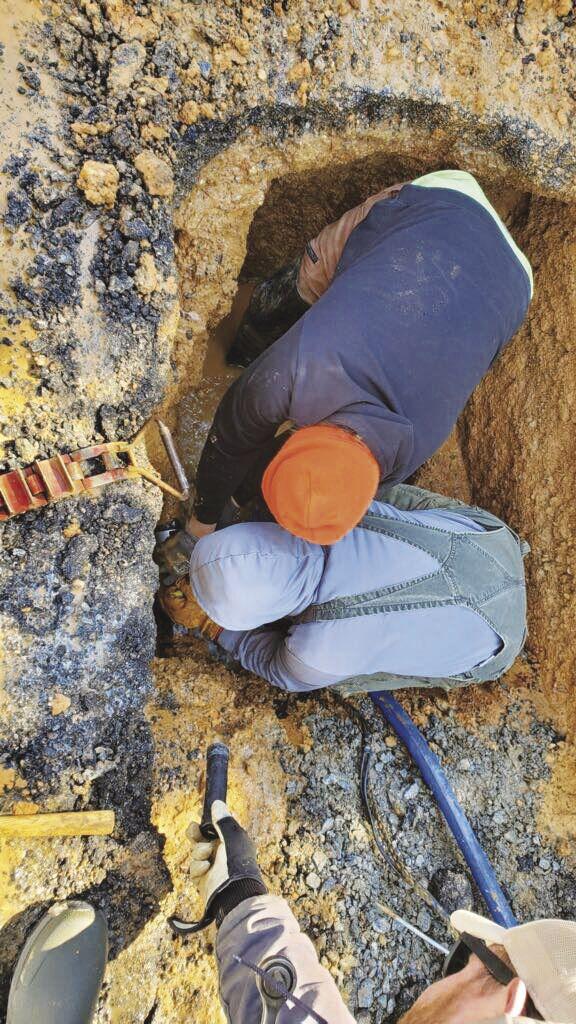 During Monday night's meeting of the Benton City Council, Benton Utilities Manager David Vondran addressed the aldermen, giving them a summary of the events occurring during the recent inclement weather and how BU is handling the resulting water and power issues.
While the power issues have been resolved, local residents are still feeling the effects of the lack of water pressure in some areas and a standing boil order that has caused a number of local schools to continue with total virtual learning due to the lack of safe water.
Vondran said that BU sells water not only to residential and business customers, but to other wholesale systems such as the Salem Water Association, the Southwest Water Users Association and the city of Bauxite. BU also provides water to the city of Haskell, who purchases its water through the SWUA.
"This challenge affected not only the 35,000 citizens of Benton," Vondran said. "It affected people outside of Benton in the unincorporated parts of Saline County and these cities that we've mentioned."
Vondran said the biggest issue BU is facing right now is getting water to the school districts. In addition to providing water for drinking fountains and restrooms, without safe and abundant water, schools cannot safely provide food for staff and students. The Benton, Bauxite and Harmony Grove school districts have all been affected.
"We have a lot of students that need to be in school now that the weather and the roads are clear, but they can't because of the water issue," Vondran said. "We continue to fight that battle."
Vondran said that the school districts are facing a number of "tremendous hurdles that are our fault."
The problems started when a hit-and-run driver collided with a fire hydrant on a 16-inch water main Feb. 18, on Willow and East Street. BU did not know the incident happened until it saw the affects the leak was having on one of its water tanks on the north side of town.
"By the time we noticed that, we had lost communication to the two tanks on the south side of town," Vondran said. "(The) Silica Heights tank was drained dry. (The) Adrian tank was drained dry and a lot of the water system, the pipes were drained dry."
The leak was repaired at approximately 3 p.m. the same day and Vondran said BU thought the situation was contained and communicated so to customers.
"We did not know while we were giving out that good news that another fire hydrant had been hit in a different part of the city," Vondran said. "We quickly had four more main ruptures in different parts of the city and a lot of our residents had private leaks at their homes."
Vondran also spoke about the extremely harsh weather conditions that BU's workers had to deal with, citing problems such as hypothermia and frostbite, also noting that a number of workers clocked-in over 80 hours each in a single pay period trying to rectify the issue.
"We made it through one leak at a time," Vondran said. "We repaired those mains as they came in. As things started warming up, the leaks that were frozen thawed and began flowing so we learned of more and more leaks as time went on."
Vondran said that BU had to turn off its water treatment plant for a brief period and that due to a miscommunication on his part, customers believed that BU was shutting down its water system.
"It took on a life of its own and that happens," Vondran said. "It just reinforces how important communications are throughout times like this."
As of Monday evening, Vondran said all leaks had been repaired and that things are improving daily although approximately 20 percent of customers still have no water. Since evening water usage typically drops, Vondran said the tanks begin to refill, but high morning usage can take those gains away.
"We are currently on a conservation, so that has had a tremendous impact on our evening ability to catch up," Vondran said. "We do ask our customers to continue to conserve water. We are under a boil order until what we think will be Friday evening. We know there will be a continued inconvenience with the effects of a boil order."
Alderman Shane Knight asked Vondran how many of the 10 mains that ruptured were past their functional depreciation.
"Probably all of them," Vondran said. "But, I would optimistically say 60 to 70 percent."
BU has also been in contact with local police and fire agencies during the water crisis. Due to lack of "fire flow," the Benton Fire Department has implemented the tanker network system in case of any structure fires.
"We tip our hats to the fire department," Vondran said. "We have been strenuous on police dispatch. They have been getting a phenomenal number of calls on our behalf."
Vondran spoke about the difficulties some customers had in reporting power and water outages. During the evening hours, BU forwards phones to a third-party answering service. Due to that service both being understaffed and a number of those workers not being able to get to work during the inclement weather, customers began to call police dispatch to report outages.
"Our customers had every right to be mad that they could not get in touch with us to communicate their problems," Vondran said. "When we found that out, we unforwarded the phones and we started manning our own dispatch around the clock. So, we alleviated that problem, but hats off to PD dispatch and fire dispatch. They took a lot of calls for us."
Alderman Jeff Hamm inquired about who is responsible for covering the cost when a traffic accident happens, such as the one that took out the first hydrant.
Vondran said because it is a hit-and-run, BU has to pay for the costs, but that they do attempt to get a license plate and identify the drivers and file a police report. They will also create an invoice and file for insurance. BU will be meeting with Benton Police Department Chief Scotty Hodges to see if there are any leads.
Knight also asked Vondran that if the initial accident had not happened, where BU would be at this point in regard to the chain events that have led to the water conservation and boil order.
"I don't think we'd be here at all," Vondran said.
"So, we would not have been in a crisis situation?" Knight asked.
"I don't believe so," Vondran said. "No, sir."
"I ask that because of the irresponsibility of whomever or however that hydrant was hit," Knight said. "Had somebody been responsible enough to call 911 and say, 'hey, I'm in an accident; I hit a hydrant,' our crews would have been notified within minutes rather than hours and we would have had that shut off ... ," Knight said.
In his opinion, Vondran said the cumulative effects of all the issues would have been much less had they been notified about the hydrant due to the fact that the time lapse between all of the issues was great enough that BU could have handled it and maintained system pressure.
Knight commended all of the work crews and employees of BU for how they handled the repairs.
Alderman Frank Baptist commended BU on its text notification plan for updating customers.
"I think that lessens the number of people who become frightened and angry when they find out what you are doing and they see there is some work being done," Baptist said. "I think that eases all their hostility, so thank you for that."
Vondran said BU's main means of communication with customers are Facebook, the BU website and the text messaging program which any customer may sign up for. The text messaging program is voluntary and any customer may call and be added to the list. The link to sign up for the program via the BU website is currently not working. He added that of the 15,000 water meters and 15,000 electric meters, only approximately 2,670 are signed up for the program.
Alderman Steve Brown asked Vondran what BU is looking at changing as a result of the crisis that has arisen due to the winter storm.
Vondran outlined a number of changes that were already being implemented before the storm that are designed to help prevent a crisis like the one BU is currently facing.
On the power issues, Vondran thanked the public for their quick response in helping to keep usage low and avoid rolling blackouts during the snow event.
"On Tuesday, (Feb. 16) we reached 4 degrees that morning and that was a first for me," Vondran said.
According to Vondran, BU immediately began conversations with the Midcontinent Independent System Operator. While Entergy owns the transmission systems in this part of the state, MISO makes sure that all of the users that depend on that system are balanced with the generation versus the load.
MISO issued a "firm load shed imperative," meaning that BU had to shed 1 megawatt of load within 30 minutes. If BU was not able to accomplish that, MISO would have stepped in to do it.
"We immediately got on Facebook, social media and our text messaging system and we reached out to our customers," Vondran said. "We had a phenomenal response."
Vondran said that due to the quick response of customers turning off extra lighting and some nonessential uses of power, such as dishwashers and washing machines, along with turing down thermostats, BU was able to shed 3 megawatts and avoid rolling blackouts.
"We couldn't have done it without (our customers)," Vondran said.
For more from Monday night's meeting of the city council, see upcoming editions of The Saline Courier.