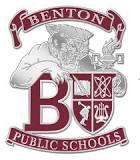 In the wake of the COVID-19 health crisis, graduating seniors have missed out on a number of traditions such as senior prom, traditional graduations and award ceremonies, but one tradition is still happening in a brand new way.
The Benton High School Counseling Office did not want to let the BHS Class of 2020 go unrecognized for their achievements and held its first ever virtual Senior Award Ceremony Monday night.
"We are extremely proud of our graduating class and they have worked diligently in their efforts to be recognized today," said BHS Principal Curt Barger. "We wish that this was a more personal event. We wish that we could have you guys in our auditorium and call your names out and see your smiling faces and shake your hands, but unfortunately because of our situation, we could not do that."
The following seniors were recognized during Monday's special presentation:
Summa Cum Laude graduates include: Adriana Baber, Lauren Baker, Corbin Beard, Alyssa Beggs, Maddox Bell, Emma Bostick, Abigail Brockway, Jacob Burks, Bishop Butler, Caleb Carlon, Kya Carroll, Adaline Chumley, Sydney Cyr, Kaelyn Evans, Blake Ferrell, Madeline Frazier, Keelin Fullen Gabriel Garcia, Kirsten Garner, Morgan Gray, Madison Green, Emily Greenwell, Jordan Hartung, Ethan Hill, Emma Hodges, Emily Hopper, Lauren Howell, Joshua Hynum, Sophia Ingram, Jenna Johnson, Annika Jostad, David Landers, Janie Lee, Dakota Leslie, Julia McPeake, Jacob Mitchem, Shelby Myers, Myranda Pascual, Colton Phillips, Kimberly Rand, Brendan Redmond, Connor Roy, Jonathon Sadler, Kane Sadler, Aubrun Scroggins, Ryan Taneja, Alexandria Trudell, JoAnna Vittitow, Veronica West and Heaven Wine.
Magna Cum Laude graduates include: Abbie Asher, Kathryn Beard, Samuel Buse, Kara Campbell, Grace Carpenter, Cade Clark, Cole Clift, Chyna Curruth, Lexi Heimrich, Ethan Hilkert, Olivia Jones, Jesse Kneisler, Lexie Newman, Amelia Penn, Jamar'iah Peters, Reagan Roberts, Aubree Robertson, Julia Rose, Robert Scott, Marisa Shelby, Kobe Simpson, Chloe Spann, Michelle Tapia, Raeley Wilson and Haley Ziemski.
Cum Laude graduates include: Andrew Ankney, Alan Anzalone III, Grace Bowling, Mark Brand, Lillie Burrus, Macy Centers, Keaton Collatt, Savannah Crotts, Gracie Davis, Bryce Golleher, Layton Kelley Jr., Kaitlyn Morrison, Grace Neighbors, Asia Skelton, Autumn Stoll, Hunter Taylor, Sean Thornton and Ashley Ward.
Frazier was named as the Class of 2020 Valedictorian while Garner and Greenwell were named as Salutatorians.
Butler and Garner were recognized as National Merit Finalists.
The history award was given to Bell while Evans won the math award. Garcia was noted as the science award recipient and the English award was given to Greenwell.
Dylan Burnham was named as the BHS Outstanding Senior Boy while Stoll was named BHS Outstanding Senior Girl.
The male BHS Citizenship award was given to Caleb Coffman and the female BHS Citizenship award was given to Fullen.
School Spirit awards were presented to Blayre Rives and Jaden Woolbight.
Six seniors were recognized as Arkansas Governor's Distinguished Scholars including Cyr, Frazier, Green, Greenwell, Jonathon Sadler, Kane Sadler and Scott.
Logan Strachan received the Accepting the Challenge Award.
More than 150 seniors were also named as Arkansas Scholars.
Barger thanked the community members, parents and teachers who helped make the broadcast possible and said that he hopes the non-traditional ceremony was "as special as it can be" and that it was the desire of the school to make sure the seniors were honored properly for all they have accomplished.
"You are truly what makes Benton High School great," Barger said. "You are truly who we want to honor tonight."