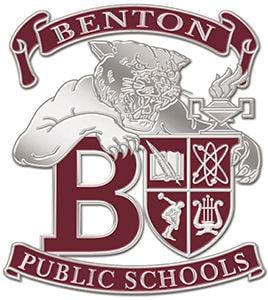 In a letter sent to parents and student of Benton Junior High School, Principal Chad Pitts has outlined the plans to continue education while students remain out of school.
"It has been an interesting past few weeks with cancellations and postponements due to COVID-19," Pitts said. "This is an unusual situation with many unknowns. Many of those unknowns cause fear. However, there are still plenty of good things happening every day. I challenge you to find the good in each day."
Pitts also encouraged the students to take the time and make real connections with their family members and spend quality time together.
"The BJH faculty and staff have been working hard to continue to provide a high quality education for our students," Pitts said. "We understand that in this difficult time, academics may not be your top priority. However, you all are worthy of an exceptional education and our expectation is for you to continue learning."
Pitts outlined the schedule students should follow for the rest of the semester:
• Assignments will be posted every Wednesday. Teachers will post them online via Google Classroom, Remind and other venues. A text link with assignments will also be sent Wednesday mornings. Assignments and materials may also be picked up Wednesdays from 8 a.m to 11 a.m.
• Assignments are due the following Wednesday. Students have one week to complete assignments.
• Assignments may be turned in to teachers in multiple ways. They can be submitted online through Google Classroom, Remind or other venues. Students can take a picture of their assignment and email it to the teacher. Finally, assignments may be dropped off in the assignment dropbox located by the front doors at BJH.
Pitts added that Chromebooks will be loaned out to those who need them April 1 from 7:30 a.m. to 11 a.m. The Chromebooks will not work without internet access.
"The Benton School District will continue to provide meals for families that need it," Pitts said. "Those pickup locations and times are located on the district Facebook page (Benton Public Schools) and will be sent to you via text. Please follow us on Facebook (Benton Junior High School) for the most recent information as things may change."
Pitts also reminded students and family members that teachers, counselors and principals may be reached by -mail. Texts may be sent to 501-803-6320.
"Again, please take this time to connect with your family," Pitts said. "We miss you. We are here for you. We can't wait to see you soon."