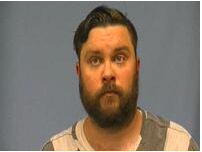 A Benton man, who is a convicted sex offender, has been formally charged with possessing child pornography.
Caleb Andrew Gordon, 32, is facing one count of distributing, possessing or viewing matter depicting child sex, a class C felony.
The Saline Courier previously reported on his initial arrest in May.
"I am proud of the swift investigation by our detectives that resulted in this arrest," said Saline County Sheriff Rodney Wright at that time. "The Saline County Sheriff's Office is committed to relentlessly pursuing offenders who utilize the internet to victimizers children."
According to court documents, an electronic service provider submitted information to the National Center for Missing and Exploited Children CyberTipline for apparent child pornography on Sept. 15, 2020.
Using the social media app Kik Messenger, a user, later identified as Gordon, uploaded 26 files to another user via a private chat message. Those files were categorized as apparent child pornography. The e-mail address provided to investigators by Kik, was later found to also be Gordon's.
A billing address for the account was found to be located in Benton where Gordon lived. When investigators ran Gordon's name through the Arkansas Crime Information Center, it was then discovered that Gordon is currently a convicted sex offender with the city of Benton.
In reviewing the files, 25 were found to depict partial and/or full nude photographs of females between the ages of 8 to 16-year old. One video file was found that depicted the sexually explicit conduct of what appears to be a female victim approximately 8 to 10-years old, according to court documents.
Court records show that Gordon was found guilty of second-degree sexual assault, a class B felony, in Faulkner County in 2008 in relation to a July 2007 incident.
In 2017 in Saline County, Gordon was sentenced to three years probation in a negotiated guilty plea for failing to register as a sex offender, a class C felony. He was also ordered to submit a DNA sample and pay all court costs and fees.
Gordon was arrested on the current charges in May and remains on the Saline County Detention Center with bond set at $25,000.