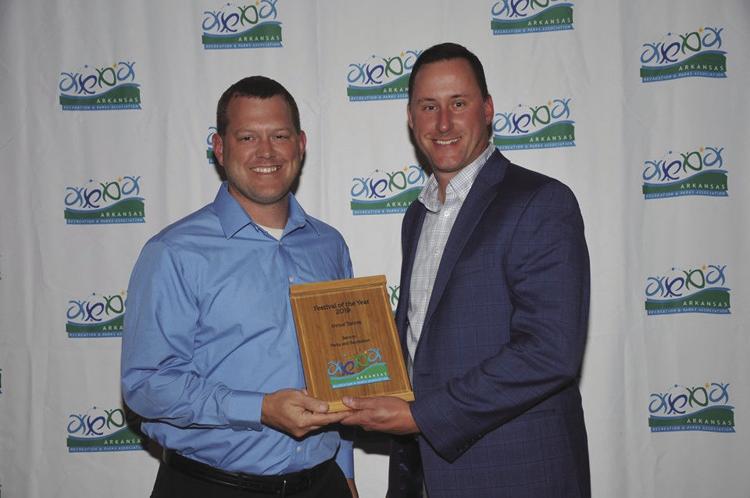 At the recent Arkansas Recreation and Parks Association Conference, the Benton Parks and Recreation Department was awarded Festival of the Year in the 1-4 Year Category for its annual Mother-Son and Father-Daughter Dances. 
"It means a lot to our department," said Special Events Coordinator Grant Watts. "It justifies why we do what we do to provide outstanding events to our citizens and our community."
Watts said these events are meant be a way to enhance relationships between parents and their children. 
These events were first held in 2015 in the Gene Moss building. The events moved to the River Center in 2018. 
Watts said the dances typically has around 200 couples. The father-daughter dance is typically a Valentine's Day dance where the fathers and daughters get dressed up. The mother-son dance is superhero themed and the couples come in costume. 
"Both of them are unique in their own ways," Watts said. 
The dances are for children aged 3 to 12 to attend with a parent. 
The next mother-son dance is scheduled for January 17. The father-daughter dance will be Feb. 7. The cost of each dance is $30 per couple and $7 for each additional child who attends with the adult. 
Watts said adults often bring along extra children who may not have that parental figure in their lives. 
Grant said the staff at Parks and Recreation are what make the events great. They work extra hours and volunteer to put them on. 
"We definitely would not be able to do it without them," he said, adding they put time into each and every program. 
He would like to see all the department's programs get recognized for how good they are for the community. 
"We put a lot of pride into our programs," he said. 
He is also grateful for the community that comes out and attends the events.