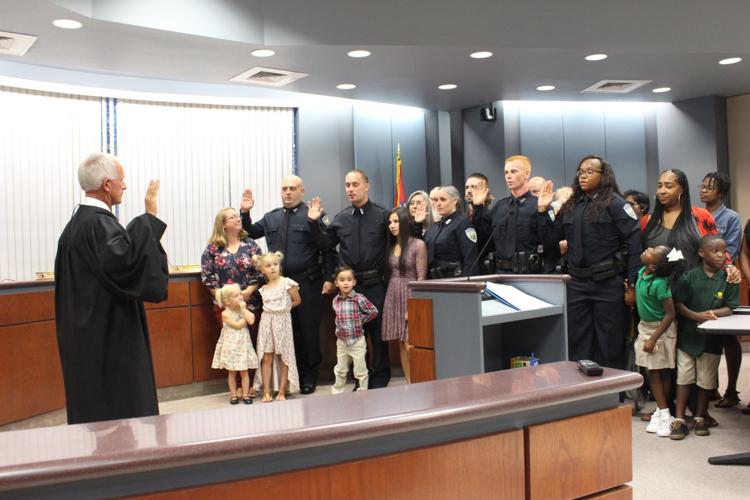 The Benton Police Department has welcomed five new officers after a swearing-in ceremony held during Monday night's city council meeting.
"Every group that we get, I always think, man, this is the best group yet," said BNPD Chief Scotty Hodges. "This could be the best group yet. We have a lot of good groups."
Saline County Circuit Court Judge Gary Arnold led the swearing-in ceremony and spoke highly of all of the counties law enforcement departments.
"Benton Police Department is among the finest," Arnold said. "They are (the finest) because of the men and women who came before you. I encourage you to earn that and build on it."
Charles Anderson is native of Pine Bluff and is the son of Gill and Patricia Anderson.  A graduate of White Hall High School, Anderson and his wife have two children. He holds a bachelor's degree in criminal justice from UA-Little Rock. Anderson is a former Arkansas State Police investigator in the Crimes Against Children Division and has also worked for the Arkansas Department of Corrections.
Jesus Feliberty was born Puerto Rico to Jesus and Carmen Feliberty. He has one child with his wife Sandra. A graduate of Escuela Lola Rodríguez de Tió in San German, Puerto Rico, Feliberty received his bachelor's degree in criminal justice from the University of Puerto Rico. He has previous experience at the Department of Corrections in Puerto Rico and in Arkansas.
Benton native Stacy Jones is the daughter of Miles and Carol Graham. She and her husband Cody have two children. A graduate of Mt. Vernon-Enola High School, she received her associate's degree in criminal justice from Arkansas State University. Jones has three years of experience as a law enforcement officer including specialized experience in investigations and internet crimes against children. She has also worked with the Arkansas Attorney General's Office.
Joseph McKinley was born in Malvern and is the son of Keith and Stephanie McKinley. He and his wife Angel have two children. An Army veteran, McKinley is a graduate of Sheridan High School and is a sergeant in the Arkansas National Guard. He is a graduate of Airborne and Air Assault School and was named Soldier of the Deployment in 2017.
Tierra Coffey is a Little Rock native and the daughter of Tulonda Coffey. She is a graduate of Hall High School and received her associate's degree in science from Northern Oklahoma College. Her previous experience includes the Arkansas Department of Corrections and the Arkansas Juvenile Assessment Treatment Center.