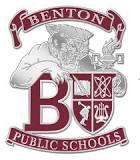 The Benton School Board has been accepting applications for the open superintendent job.
As of right now the applicants are current Interim Superintendent Dr. Kim Anderson, Jennifer L. Barbaree, Herbert O' Neil, Dr. Rick Gales and Dr. Jeff Spaletta. Dr. Karla Neathery has also applied for the job, but later withdrew her application. According to a recent announcement from the Sheridan School District, she was recently hired as their new superintendent.
The Benton School Board will be conducting their first three interviews at a special meeting tonight.
The first three candidates being interviewed are Anderson, Barbaree and O'Neil.
Anderson is currently serving as the district's interim superintendent and started working with the district in July 2017 as an assistant superintendent. Before working in Benton, she worked with Jonesboro Public Schools as a school improvement specialist and principal.
Barbaree currently serves as assistant superintendent for the Office of Coordinated Support and Services at the Division of Elementary and Secondary Education. Before that she served as superintendent at Armorel School District in Armorel.
O'Neil is currently serving as the assistant superintendent of school leadership at Greenville Independent School District in Greenville, Texas He has also served as the principal at Naaman Forest High School of Garland Independent School District in Garland, Texas.
The meeting is scheduled for 5 p.m. and will take place at the Professional Development Center on Benton's campus.
Interviews will be conducted in executive session, according to the meeting agenda.