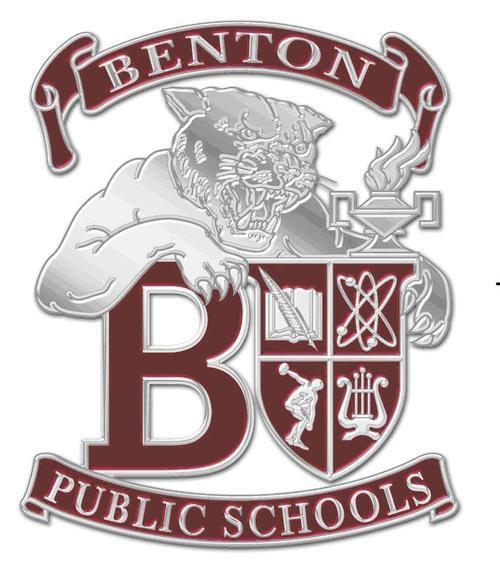 The Benton School District has released a statement to parents, guardians and the community regarding concerns for the start of the 2020-2021 school year.
"The Benton School District is committed to returning to on-site learning beginning August 24th," the statement said. "We understand that there will be a degree of apprehension on the part of many parents, students and staff members. The safety and well-being of our students and staff are of primary importance to our District. We also understand the governor's desire to return to on-site instruction five days a week starting on August 24th. The Benton School Board, district administration and staff believe a more measured approach is warranted. Unfortunately, we do not have complete control over this. We have developed a plan, which we believe will address several of the concerns we have and still allow the District to open for onsite instruction for all students at the earliest time possible."
For the first two weeks of school all grades are instructed as follows:
On Aug. 24,  students whose last name begins with the letters A-M will begin instruction (virtual only students for the first semester may also attend). All other students will remain off-campus that day.
On Aug. 25, students whose last name begins with the letters N-Z will return to school (Virtual only students may attend if parents choose to do so. All other students will remain off-site that day.
On both days, district staff members will work to distribute books devices, and any other necessary items so that the BSD can immediately pivot to off-site instruction at a moment's notice should the health and safety of students and staff warrant such a move.
Aug. 26 will be an off-site learning day for all students.
"This will allow staff students, and parents to have the opportunity to work with the devices, learn to upload assignments and work with the devices and the district's Learning Platform (Google Classroom)," the district said. "Teachers will be available virtually that day to answer questions and assist students and parents with technical issues related to the platform. This will also allow District staff to deep clean and disinfect the campuses."
On Aug. 27, A-M students will return to campus for that day. N-Z students will be on-campus on Aug. 28.
"Week two will be very similar to week one with a divided schedule continuing and a cleaning day occurring on Wednesday with all students offsite for a virtual learning opportunity," the district said. "We do realize that supervision of children not at school may be a problem, so beginning week two we will allow all students to return to campus (if parents do not have other options) on each of the four on-site days. Please note that this may not allow us the maximum social distancing opportunities, but we do understand the need to strike a balance. Please note that all students will be learning off-site on Wednesday."
The district added that it is their intention to re-evaluate the situation after two-weeks.
"Our goal is to run regular school bus routes beginning Aug. 24," the district said. "As everyone is aware, school buses are not designed with 6 feet social distancing as an option. Students will be required to wear masks and the buses will be cleaned and disinfected daily. Parents can assist us with social distancing on buses by providing transportation, when possible, until this crisis ends."
Kindergarten assessment will be held in Aug. 24-25 with Aug. 26 as a back-up date.
Open House will be 5:30 to 7 p.m. on Aug. 26. There will be 15-minute segments assigned to parents. Due to regulations on large group events, only one parent and the student will be able to attend to meet the teacher and bring their supplies. Both parent and student must wear masks.
"We hope the measures being taken will help parents and students feel comfortable with returning to campus this fall," the district said. "However, there are virtual opportunities available to those not ready for an on-campus return. Benton Teachers will deliver Benton School District curriculum. Some limited courses may be offered through Virtual Arkansas on an as needed basis."