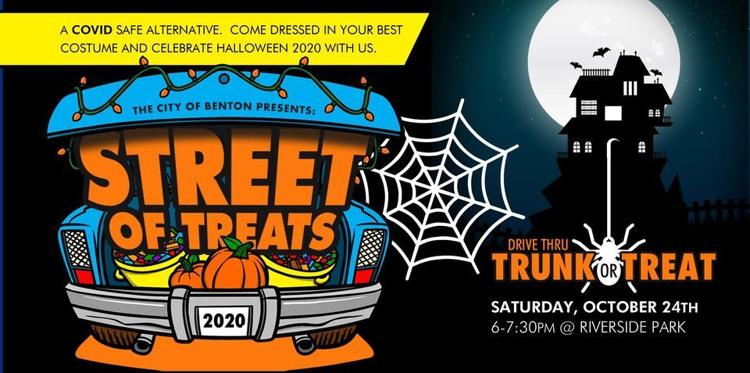 With all of the traditional Downtown Benton Halloween celebration events canceled due to COVID-19, the city is creating a new tradition that it hopes will make the holiday fun and safe.
"With all the restrictions in place this year, neighborhood trick-or-treating will look a lot different, if it can actually happen at all, so we were trying to think of something fun for the kids in the community to do to celebrate the holiday, while being safe," said Benton Director of Marketing and Special Events Tina Coston. "A drive-through event will allow the kids to trick-or-treat, but at a safe distance."
The city has helped co-sponsor a number of drive-in movie events over the past few months and that helped sparked the idea for the Street of Treats event. The city has already planned to show the much beloved film "Hocus Pocus" at 8 p.m. Oct. 24, at Riverside Park.
"We've had so much success with our drive-in movies, a drive in trick-or-treating event the night we're showing 'Hocus Pocus' seemed like a great fit," Coston said. "Since the movie is already scheduled at Riverside Park, it just makes sense to hold the drive-through trick-or-treating there before the movie starts. Trick-or-Treating will be from 6 to 7:30 p.m and the movie starts at 8 p.m."
Coston added that the city is looking for cars to hand out candy and have reached out to local businesses along with Jeep clubs and car clubs.
"We need as many cars handing out candy as possible," Coston said. "I say the more cars handing out candy, the better. We also want to get the word out to all the families in the community so all the kids get a chance to trick-or-treat this year. Look for an event posting on the city's Facebook Page (Benton, Arkansas - Benton Proud) soon."
While there are no age restrictions on who can participate in the event, Coston said they are hoping that the trick-or-treaters will be children and not young adults.
"I think it would be fantastic if everyone wore a costume," Coston said. "I definitely will be.  Of course, keep in mind this is a family-friendly event, so we ask that no one wears scary or adult costumes.  We're also requiring those handing out candy to wear a face mask and the candy will all be pre-packaged."
Acknowledging that this year's Halloween celebration may look a bit different, Coston said that there is still much fun to be had.
"First and foremost we want everyone to be safe," Coston said.  "With that being said, we still want to have fun things for families to do.  It's important for a community to come together, enjoy each other's company, and celebrate together.  It may be harder to do during a pandemic, but if we just get a little creative I think we can make it work.  Halloween was my favorite holiday when I was growing up and I just want our kids to have an opportunity to put on their favorite costume and enjoy it in 2020, even if it looks a little different."