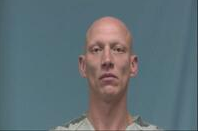 A convicted sex offender last known to be residing in Benton has been charged with homeless sex offender failing to comply with registration requirements.
The charge against Bradley James Gonzales, 41, was filed on June 3. According to court documents, he has been arrested and convicted on three separate occasions for failure to comply with registration and reporting requirements after being convicted of class C felony rape in Saline County in 1998.
Gonzales was required to update his six-month verification of residency with the Benton Police Department in December, but did not contact the department. A BNPD detective attempted to contact Gonzales by phone numerous times. The phone number is no longer working.
The BNPD responded to his last known address on Wakely Cove, but were unable to make contact.
"The address appeared to be abandoned and there was no electric meter to the residence," the affidavit said.
After being unable to locate Gonzales at the address, his information was run through the Arkansas Crime Information Center and it was found that Gonzales was shown to be absconded with an unknown address. His most recent arrest and charge for failure to comply with registration was July 22, 2020, but there has been no disposition on that charge, according to court records.