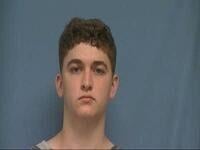 A Benton teen has been charged with a number sex crimes in relation to several incidents with the same victim beginning in 2018.
Braden Thomas Murdock, 18, has been charged with two counts of class Y felony rape and two counts of class B felony second-degree sexual assault.
According to court documents, the Benton Police Department was contacted by Benton High School Assistant Principal Karen Hilburn in February in reference to a possible sexual assault.
Hilburn, who by law is a mandated reporter, received secondhand information that a BHS student had been sexually assaulted off campus.
Once the information was confirmed by the victim, the case was transferred to the Saline County Sheriff's Office due to the location of the crimes.
The victim told investigators that Murdock allegedly raped her in an incident at her home approximately one year ago. She stated that she repeatedly told Murdock "no," but that he pushed her on to the bed, removed her pants, held her down and raped her.
She also disclosed a separate incident at her home where Murdock allegedly assaulted her while telling her, "to just let it it happen" after she told him to get off of her.
During a separate forensic interview, the victim told investigators of an additional incident at a friend's house where Murdock allegedly assaulted her despite telling him to stop multiple times and continued to touch her after she pushed his hand away.
The rape charges are in relation to incidents in December 2018 while the sexual assault charges are related to incidents in February 2019 and December 2019.
Court documents also state that multiple people interviewed concerning the case described Murdock as "a heavy alcoholic" but that he "mainly kept to himself and were shocked that he would do something like this."
No court date has been set.