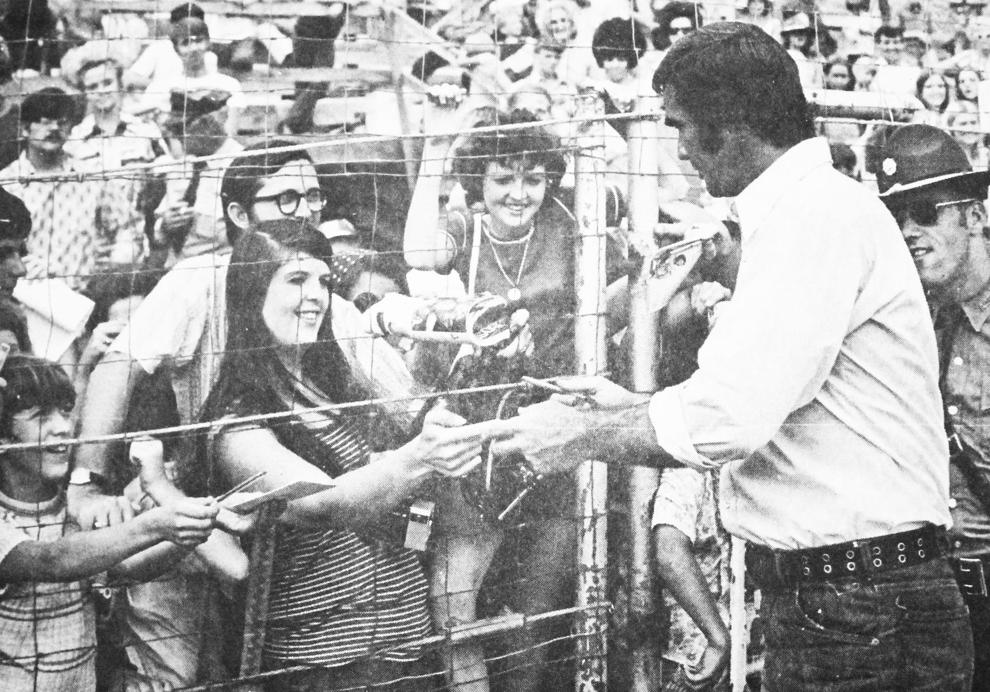 The City of Benton will host the inaugural Burt Reynolds Celebration on Dec. 2 and 3 featuring cars from "Smokey and the Bandit" and "White Lightning."
The famous Smokey and the Bandit Trans Am along with White Lightning's Gator McKlusky Galaxie 500 and Buford T. Justice's police car will be featured in the Benton Christmas parade on Dec. 2. The parade's Grand Marshall, Benton Mayor Tom Farmer, will be riding in the Trans Am.
On the following day, the cars will be seen around town as a film crew recreates scenes from Reynold's movie "White Lightning" as part of a documentary being made centered around the filming of the original movie, parts of which were filmed in Benton in 1973. Longtime Saline Courier reporter Lynda Hollenbeck was featured in a courthouse scene of the original film.
"Burt said we never had an actual 4-speed Galaxie 500 in the film - we used a Mustang for the insert shots of the gear shifting," said Gene Kennedy, president of Bandit Movie Cars. "In the years before Burt's passing, we discussed some of his favorite on-screen cars from his films, and countless other car-movies that he loved.  The 'Gator' Galaxie 500 was one of Burt's favorites.  It was the White Lightning film that Burt and his lifelong friend, Hal Needham, that started an avalanche of action films together using fast cars as co-stars written into the movie scripts."
Kennedy first met Reynolds at a car show where the became friends. He is also the CEO of Kennedy Construction Groups, a roofing company. When Kennedy learned Reynolds need a new tile roof Kennedy not only repaired Reynolds' roof, but they were soon turning wrenches on some of Reynolds' movie cars.  The first  movie car endeavor Reynolds and Kennedy did together was a Universal Pictures promotional Trans Am that was used to tour the country and promote the 1977 box office smash "Smokey and the Bandit." Kennedy put the deal together with his constituents, who owned the promotional Trans Am. Together, they took the car over the auction block at the Barrett Jackson, Scottsdale event, where the car hammered at an astounding $530,000.
After that tremendous success, Reynolds and Kennedy formed Bandit Movie Cars. Their mission was to set out and locate, rebuild, or recreate famous movie cars. Since their partnership was formed, BMC has done numerous cars from films and TV, including: "Cannonball Run", "Hooper", "Smokey and the Bandit", "Twister", "Vacation", and a full slate of other movie car projects.  
One of the last builds that Reynolds and Kennedy were working on together prior to Burt's passing, was the Galaxie 500 from the film, "White Lightning".
The White Lightning Galaxie 500 will be on display for the first time, along with several BMC movie cars at the World of Wheels / Autorama in Houston, Texas from Nov. 28 through Dec.1, followed by the appearances in Benton.