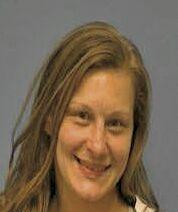 A Benton woman has been arrested by the Saline County Sheriff's Office on sex crime charges involving a juvenile victim.
Elizabeth Marie Lyons, 36, was arrested June 8 on charges of felony sexual indecency with a child, second degree sexual assault, a Class B felony, and failure to appear for a felony offense.
According to a SCSO incident report, the parent of the alleged victim, spoke with the SCSO about an incident with Lyons. The victim, who was 7 years old at the time of the incident, recently brought the incident to the attention of the parent.
After an interview with the child with a counselor in Little Rock, the matter was called in to the Child Abuse Hotline and forwarded to the Arkansas State Police Crime Against Children Division. The CACD informed the SCSO who began a criminal investigation into the incident.
The incident report indicated that information from the call to the hotline concurred with information provided by the parent at the time the incident was initially reported. A forensic interview with the victim was also held at the Mercy Child Advocacy Center in Benton in May.
Lyons was released from the Saline County Detention Center on June 10 a $10,000 bond.