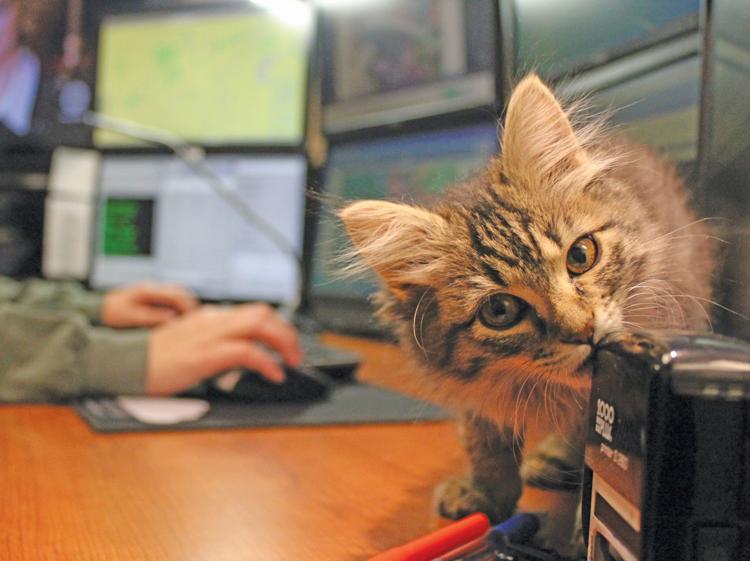 The newest member of the Bryant Police Department is unconventional. Officers are currently fostering a 15-week-old kitten with plans to adopt it. 
They have named their new four-legged friend, Cad, after the operating system the department uses for dispatching calls. 
According to Animal Control Director Tricia Power, Cad was brought to the Bryant Animal Shelter along with her mother and three siblings in September. 
"All were very sick and their mother had rejected them, likely because she was just trying to survive herself," Power said. 
While Crystal Winkler was working at the Bryant Police Department, she was fostering two of the kittens that had to be bottle fed and nursed back to health. Eventually, officers decided to keep one of them. 
Officers and individuals who visit the station have had a "overall positive response" about the new addition, said Sgt. Todd Crowson, spokesperson for the Bryant Police Department. 
Since officers and dispatchers work at the Bryant Police Station around the clock, Cad always has someone to care for her. 
"Her adoption by the police department serves as reminder that although shelter dogs get the majority of the attention in regard to rescue and adoption resources, there are just as many cats in shelters needing help," Power said. 
She said that cats have passed dogs in popularity and is now considered the most popular pet to own in the United States. Unfortunately, because of that popularity, there have also been an increase in the number of cats coming into shelters. 
"We hope that Cad will serve as a cute and cuddly ambassador for her species, as well as provide stress relief for the staff and officers at the police department," Power said. "There's nothing quite like a purring, loving kitten to cuddle after a particularly tough day on the job."
Crowson agreed adding that the kitten can also calm a victim who has to visit the station. 
The Bryant Police Department is not the first to add a cat to its ranks.  
About a month ago, officials with the Fort Smith announced that the department had a new "pawfficer." Pawfficer Fuzz has his own vest, badge and even was sworn in by Mayor George McGill. 
Last year, the Chicago Police Department shared information about the CPD Meownted Unit Pawfficer Gizmo.  The idea started after an officer visited a local elementary school. A student asked why there are police dogs but no police cats.
A police cat has also been reported in Troy, Michigan.