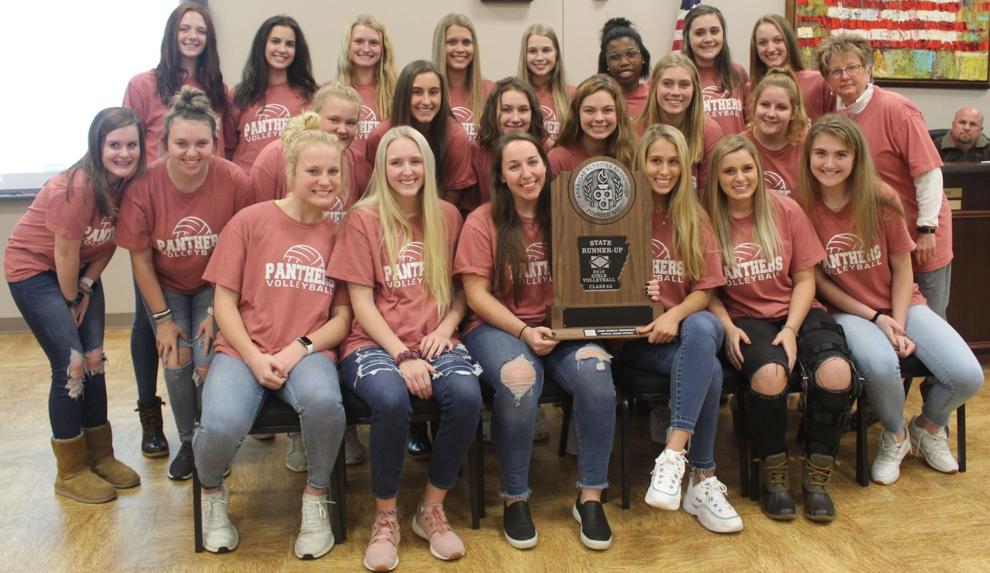 The Benton High School volleyball team was honored Monday night with a Panther Pride Award from the Benton School Board for their success during the 2019 season.
"The 2019 Benton High School volleyball team had an outstanding season," said Athletic Director Scott Neathery. "They were 5A south co-champions with the number one seed and finished the state tournament as the 5A state runner-up. They ran into a pretty tough Jonesboro team. Y'all played excellent all year long."
The team, which finished with a 27-4 overall record and a 13-1 conference record, is led by head coach Michelle Shoppach and assistant coach Rachel Dodson.
"It was nice to carry (this award) in" Shoppach said referring to the state runner-up trophy. "It's been 2013 since we had one of these. Coach Neathery likes to call them doorstops because it's not the state championship. But, I tell you what, like I told Dr.
(Mike) Skelton, this can hold my door any day. And, I've got a few more doors that I need doorstop for."
Shoppach said that with seven seniors on the team, some rebuilding will be necessary. She also commended the members of the Benton School Board for making the effort to attend as many games as they could to support the team.
"I saw a lot of them at most matches," Shoppach said.
Shoppach also added that she was grateful to other staff and fans for coming out to support the girls as they played.
"That may not mean much to them," Shoppach said. "But, it means the world to me."
Team members include Lydia Buchanan, Katie Strickland, Laci Bohannan, Abby Hardister ,Hanna Brewer, Abigail Lagemann, Riley Hathcote, Raeley Wilson, Bissette Childress, Katie Morrison, Grace Neighbors, Skylar Goff, Kirsten Garner, Mary Grace Guerra, Molly Maxwell, Grace Anne Shelnut, McKenzie Worsham, Gracie Redmon, Hailey McCallum, Mali Clifton, Sakari Faulkner, Kylee Hobbs, Peyton Martin, Kelly Simpkins and Annie Cochran.