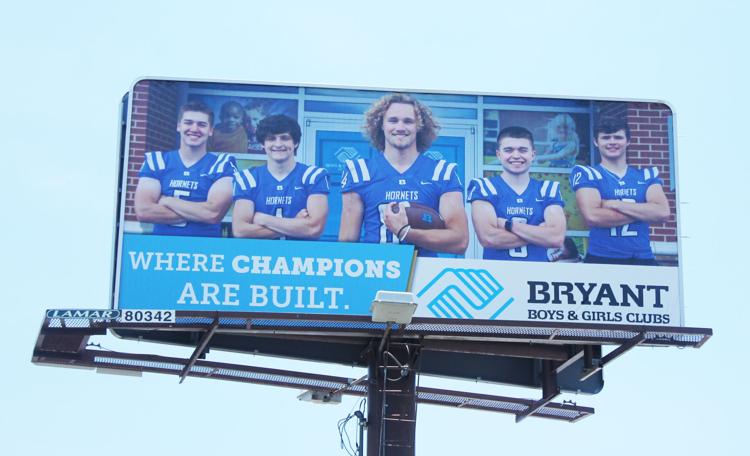 A billboard in Bryant has caused a stir on social media and within the local communities. 
Placed by the Boys & Girls Clubs of Bryant, the billboard was launched as the first step of a marketing campaign. However, the billboard features five white Bryant Hornets football. 
On Wednesday, the Clubs released the following statement regarding the billboard:
"The Bryant Boys and Girls Club has been serving the children in our community for 16 years. Our vision is to provide a safe, fun and positive club experience for every child who walks through our doors by engaging them in life changing programs and surrounding them with caring mentors, helping to ensure their path for a great future. 
"As part of our efforts to raise awareness about our club, we recently launched a marketing campaign focused on highlighting children in our community who have been involved in the Bryant Boys & Girls Club. The billboard that was released this week, which was placed by the Bryant Boys & Girls Club, was the first of many pieces in this campaign. 
"Bryant Public Schools was not consulted in the planning of the billboard nor did we seek permission for using the players uniforms in the photo. In preparation for the photoshoot, we invited a number of Bryant football players who volunteered at or attended the Bryant Boys & Girls Club to be in the photo. The invitation was extended to players of different races. 
"Unfortunately, only the boys in the photo were able to attend that day. We understand that this photo has caused concern in our community. We want to ensure you that we hear you and understand your concern. We also want you to know that more pieces will be released in the coming weeks highlighting children of all races. We apologize that this billboard has offended anyone. In an effort to respect and address the concerns, we are working to take down the billboard until another photoshoot can be scheduled that better reflects our organization as a whole. 
"Thank you for voicing your concern and letting us know how we can better serve you. Please feel free to always reach out to us if there is anything we can do to better serve our community."
The Bryant School District also released a statement regarding the billboard, confirmed that the school did not have anything to do with the marketing, nor was it consulted regarding the billboard.