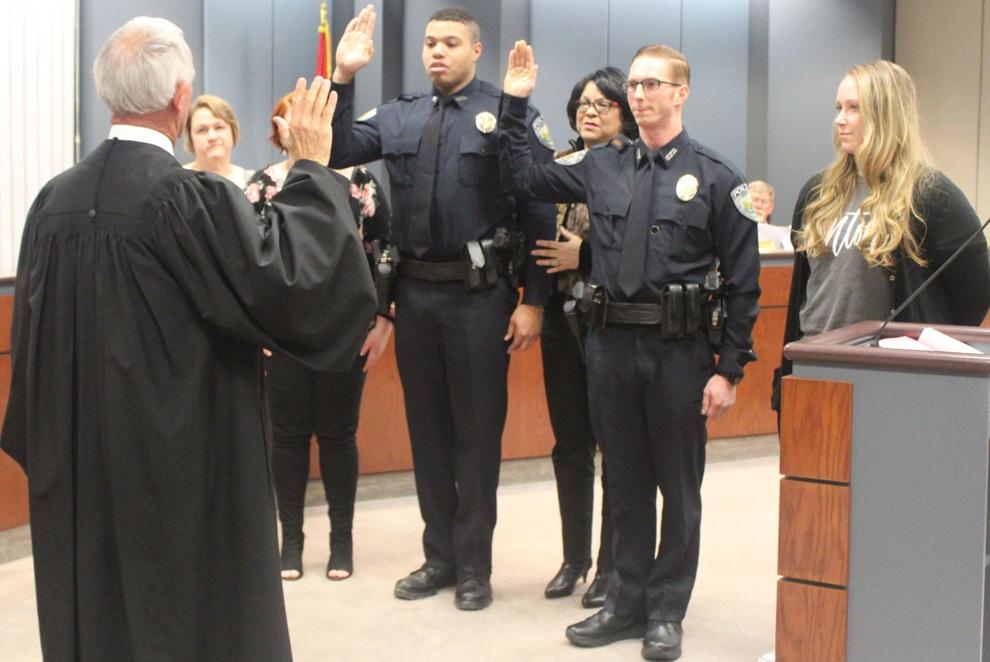 Two new officers with the Benton Police Department participated in a swearing-in ceremony during Monday night's Benton City Council meeting.
Ryan Vaughn, a Memphis native, is a graduate of Cordova High School and a former student at Southwest Community College. In addition to his duties with BNPD, Vaughn is also a chief instructor with All-Star ATA Martial Arts. He holds a national certification for teaching Taekwondo.
Vaughn's girlfriend, Adrianna, also participated in the ceremony by pinning on his badge.
Cleveland native Dan Guilfoyle is a graduate of Cuyahoga Heights High School. After graduation, Guilfoyle joined the U.S. Air Force and was deployed to both Afghanistan and Turkey.
While in the military, Vaughn was honored with two achievement medals including an Outstanding Unit Award and a Nuclear Deterrent Operations Service Medal. He also received a Non-Commissioned Officer Professional Military Education Graduate Ribbon.
Both BNPD Chief Scotty Hodges and Mayor Tom Farmer thanked Guilfoyle for his service.
Guilfoyle's wife, Brooke, also participated in the ceremony by pinning on his badge.
Both men were sworn-in by Saline County Circuit Judge Gary Arnold who took a moment to speak with both men and offer support and encouragement.
"You will deal with a lot of people who aren't necessarily easy to deal with," Arnold said. "They may not have earned your respect, but at the end of the day, try to treat them the way you would want your family and friends to be treated and you will never go wrong. Always do the job the best you can."