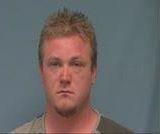 A Benton man who was arrested Saturday in connection with the death of his wife appeared this morning — via webcam — before Saline County District Judge Josh Newton. 
Nicholas Fernow, 28, who is facing a first-degree murder charge, received a bond of $500,000. 
In a statement about the case released Saturday, Benton officers said Fernow's wife, Minnie Fernow, died as a result of "traumatic injuries."
Saline County Chief Deputy Prosecutor Rebecca Bush gave details of these injuries to Newton during Monday's hearing. The victim suffered six stab wounds to the head and neck and had a 5-inch-by-3-inch gash in her skull, Bush explained. 
Bush also noted that Fernow is currently on probation for a charge of possession of methamphetamine. 
Shelby Carpenter, who was serving as Fernow's legal counsel during the hearing, mentioned that the suspect has a history of mental issues and had recently been prescribed new medication.
Benton police officers responded to the Fernows' residence Saturday at approximately 2 a.m. after receiving a report of a welfare concern. When they arrived, they located Minnie Fernow's body. The investigation of this case is ongoing, according to the Benton Police Department. 
Nicholas Fernow is scheduled to appear again before Newton at 1 p.m. on Aug. 27.