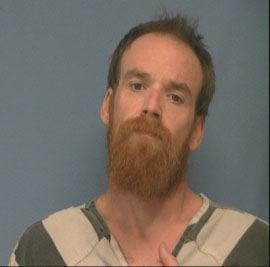 Saline County District Judge Josh Newton set a $1 million bond for a Sherwood man facing charges of kidnapping, battery, aggravated assault and being a felon in possession of a firearm.
John Self, 34, appeared in Saline County District Court on Friday, along with Attorney Bobby Digby, who represented Self at the hearing.
"Obviously we have grave concerns about this crime," said Prosecuting Attorney Chris Walton. "He followed her, we're alleging, for approximately 30 minutes from her workplace to her house."
According to Walton, the victim did not attend the hearing due to her injuries and "being traumatized."
The victim's father did attend the hearing on her behalf.
Self and the victim were not acquainted.
"The crime seems arbitrary in nature," Walton said. "He rammed her car, pulled her out of it and attempted to get her into his own car. He hit her with his fist and with (a) gun."
The victim's injuries include a swollen jaw, facial bruises, head injuries and damage to her shoulder.
"The arbitrary nature of this and the violence of this is what concerns us," Walton said. "Not only is the community at risk, but also the victim. He knows where she lives now and he knows where she works."
Walton also stated that Self was absconding from parole and that he has a criminal history including criminal mischief, theft of property, failing to appear in court and felony drug possession.
Digby disputed the kidnapping charge saying that it was his opinion that the charge should be changed to attempted kidnapping. He also disputed Walton's statement that Self had failure to appear convictions and that no disposition on those charges could be found and should not be considered.
Digby did not dispute the habitual offender charge, but noted that Self did not have any violent convictions on his record.
"She was fighting to keep from going in that car," Walton said. "No telling what could have happened had she not been able to fight and break away."
"I'm not doing my job if I don't point out that it looks like an attempted kidnapping," Digby said. "The rest of these facts can come out in trial and there might be a sentencing if he's convicted, but for the purpose of the bond it looks like an attempt which lowers is to an (Class) A felony rather than a (Class) Y (felony.)"
Newton said that he had signed the initial arrest warrant himself and that he had reviewed the kidnapping statute prior to issuing the warrant and believes the kidnapping charge was appropriate.
"I am extremely concerned about the allegations here," Newton said. "The nature of the offense, what all took place. There is a significant public safety concern, I believe based on what happened here and what could have happened here … given the allegations here and the history, particularly the allegations and the threat to public safety and the safety of the victim, I think a $1 million bond is reasonable under the circumstances."
Along with the bond, Newton also issued a no contact order that covered both the victim's home and place of employment.
Self is scheduled to appear again in court at 1 p.m. March 10.