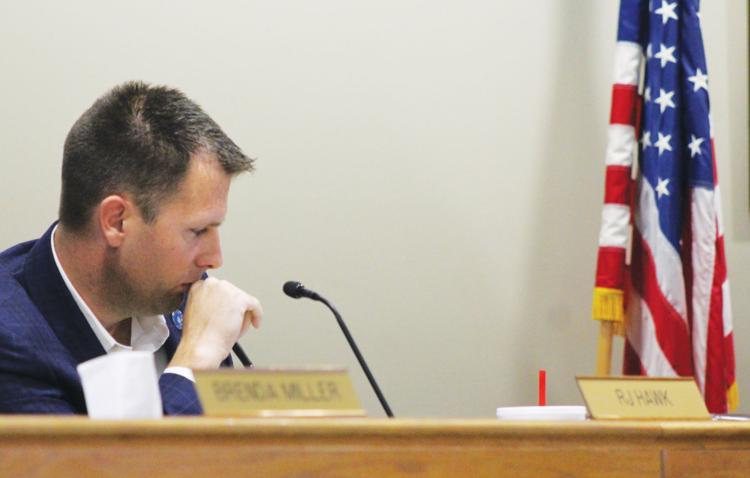 After months of discussion, the Bryant City Council, during a meeting Tuesday, rejected a proposed change to the city's burning ordinance and sent it back to the drawing board. 
Alderman RJ Hawk suggested a change to the city's burning ordinance in March after receiving complaints from residents regarding neighbors burning leaves and yard debris. 
According to the city's current burning ordinance, for residents on less than 2 acres of land, open burning is allowed from March 1 through May 31 and Oct.1 through Dec. 31. The proposed change would have outlawed open burning of yard waste on these smaller lots. 
To coincide with the proposal, the city also started a new yard waste program to collect yard waste regularly. 
Hawk pointed to the success of this program as well as health concerns when discussing the need for the change Tuesday. 
"If you go over on the north side of Bryant during the burning season… it's a smog town. You can drive down the interstate and it looks like you live in Smog City U.S.A. I thought we were Tree City U.S.A. We've got to be able to cut down on that," Hawk said. "I understand that it's not going to make everybody happy. There are decisions that you can't please everybody, but if you can please a large number of people, which that's our job, then that's what we're here to do."   
During the public comment portion of the meeting, alderman heard comments on both sides of the issue. Four people spoke against the change with one person speaking in favor. 
Jim Erwin, longtime Bryant resident who serves on the city's Planning Commission, expressed his support for the change. 
"Our philosophy is, if it's a pretty day in Bryant, somebody's burning," Erwin said. "It's getting out of hand." 
Burning has clogged ditches which is causing flooding. Burning has also damaging culverts and water meters, he said. 
City staff also said they have received support for the burning change. 
Martha Cox along with her sister Charlotte Daniels expressed concerns about the change last month and once again addressed the council Tuesday. 
Cox told the council that outlawing burning on small properties favored some property owners and caused physical and financial hardships on longtime Bryant property owners. 
"Burning leaves and other yard waste is a natural and inexpensive way to dispose of it and a right Bryant owners in Bryant have long enjoyed," Cox said. 
Peter Cunningham shared similar concerns. As a student pastor at First Southern Baptist Church, he has spoken with Alderman Butch Higginbotham about having church groups volunteer to help senior adults pick up yard waste. 
"There is just too great of a need for student ministries and church groups," he said. 
During the past three months, the council has approved the first, second and third readings of the ordinance. 
After failing to receive a second from another council member, Hawk's motion Tuesday to adopt the updated ordinance died.
Members of the council discussed wanting to find a compromise.
"In regards to the pickup program, I think it has been a success. I think we need to continue to do it and grow it … I heard enough from people that I understand that there is still a need to burn, but I understand on the other hand that there are people who suffer from the smoke," said Alderman Wade Permenter while suggesting the city allow burning with additional limitations.
At the suggestion of Alderman Rob Roedel, a committee will be formed to discuss this issue further. 
"There's going to be some middle ground somewhere, I hope," Roedel said. "When we passed the original ordinance just do to this, it was a very controversial subject … and I think when we get to the next stage there will also be some discomfort, but I still want to make sure that we accommodate as many people as we can on both sides of the issue."
Even though the burning ordinance change failed, the yard waste program will continue. 
"I've heard a lot of people say this (the yard waste program) is financially not something they can do or physically they are not able to do…. this can still be a volunteer program for those who don't want to burn. Those who want to cut down on burning can do that," Billingsley said.  
Council member Brenda Miller asked the city staff research pricing for equipment to vacuum yard waste for the pickup program. 
Information about other action taken during the meeting will be featured in an upcoming edition of The Saline Courier. 
All meetings of the council are open to the public and attendance is encouraged.