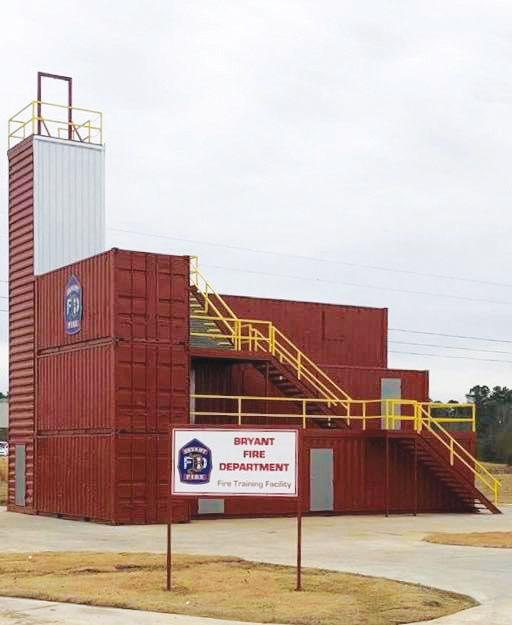 After using parking lots and the engine bay for training purposes over the years, the Bryant Fire Department is excited to celebrate the opening of a new training facility. 
The department is inviting the community to attend a ceremony celebrating the facility at 9 a.m. Saturday at Fire Station 2 on South Reynolds Road. 
The event will include a "ribbon cutting" using a fire hose, light refreshments and a demonstration of how the facility will be used. 
The approximately 4,000-square-foot training facility is constructed using Conex Boxes by Lonestar Tactical. 
Capt. Ryan McCormick, a 16-year veteran of the Bryant Fire Department, said he has lead training efforts for Bryant firefighters for years and has wanted this type of training facility for the past decade. The cost of the project always held the department back.  
"We knew we needed it," said Chief J.P. Jordan. "We didn't really know if it was possible or not."
Fortunately, through networking, McCormick was able to get to know the owner of Lonestar Tactical, who is a Houston firefighter. Because of their friendship, the Bryant Fire Department constructed the facility at a discounted rate. 
"I phoned a friend," McCormick said. "Within an hour, he came back and said 'Here's a drawing and here is how much it will cost you.'"
The facility was purchased using leftover funds from the most recent bond issue to construct two new fire stations in Bryant. Both Station 2 and Station 3, located on Northlake Road in Alexander, opened in 2018. 
Both McCormick and Jordan agree that firefighter training is essential. 
"Realistic training is the best type of training," McCormick said. "With the training facility, we can make it almost as realistic as possible."
Jordan added that "firefighters are notorious for learning hands-on."
Along with preparing firefighters, training also affects a department's ISO rating, McCormick said.
At the new facility, McCormick can use smoke machines to create a more realistic setting or lights for training at night. The building also has interior and exterior stairways for firefighters to practice using.
In Bryant, firefighters have to use stairs when responding to incidents at hotels and motels and even some residential homes. 
"We're not accustomed to stretching hoses up stairs," McCormick said. "Most of our bread-and-butter fires are one-story houses ... but we have to prepared to go further in a house when we come across those obstacles."
After the Bryant Fire Department learns how to effectively use the facility, the firefighters hope to host training session with neighboring departments. 
"They work with us and we work with them almost daily," Jordan said. "It helps us feel better when we all know the same thing."