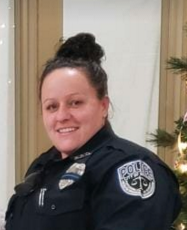 A Bryant officer who was injured during an officer-involved shooting Monday has been identified as Samantha Hodgson.
According to Sgt. Todd Crowson, spokesperson for the Bryant Police Department, officers were originally called to the Greens Apartment Complex for a report of a suicidal person. 
At the scene, the subject shot Hodgson before being shot and killed by a second responding officer, Crowson said. 
Hodgson was airlifted to the University of Arkansas for Medical Sciences where she is currently undergoing treatment. Her condition is unknown at this point, Crowson said.
Hodgson has been a Bryant officer since October of 2018.
The name of the individual who was killed during the incident has not been identified at this time. Arkansas State Police is handling the investigation.