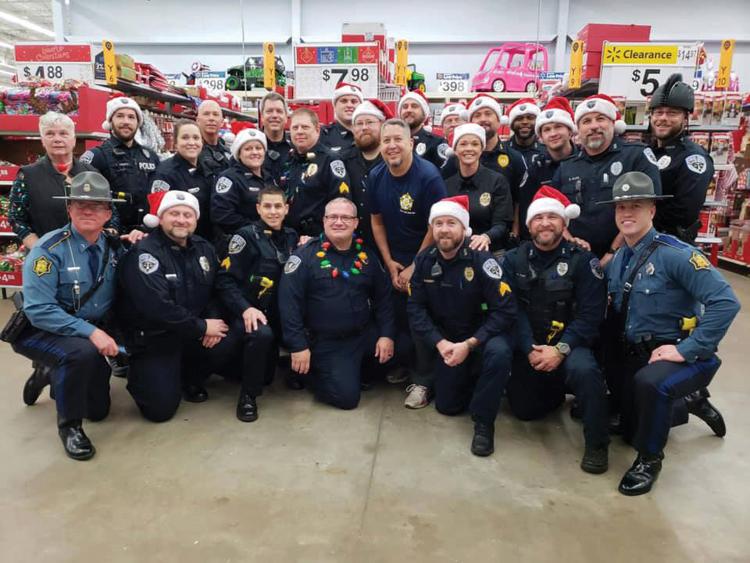 Each year, beginning in October, officers with the Bryant Police Department are allowed to break the department's dress code and grow facial hair. Through the Beards and Badges fundraiser, the Bryant Fraternal Order of Police raises money for the department's Santas with Badges shopping event in December. 
To be able to grow a beard, each officer has to collect donations of at least $150, the amount needed for each child to shop. The officers typically raise more, said Officer Sterling Pruitt, who currently serves as the president for the FOP. 
Children selected to participate in Santas with Badges are identified by school counselors. These students are in a "need situation" which can include children from low-income households, foster children or individuals not being raised by their biological parent, Pruitt said.  
The children are required to purchase clothing items and a gift for a family member as well as selecting gifts for themselves. 
"It's definitely one of the more rewarding things we do," Pruitt said. 
The event allows children to see officers in a fun situation, he added. 
"It's different that what we normally do," he said. "A lot of times, when people encounter us it's not always a good circumstance. Usually, if the police have been called something bad has happened or is happening … to be in that dynamic there, at Walmart, taking those kids shopping, it's just a fun time."
The officers also find joy in the children's happiness. 
"You get to see how happy those kids are. It's a unique thing for them. Most of the kids we're dealing with, they have never gotten to go to Walmart and been told 'pick out a toy.'"
Pruitt has worked for the Bryant Police Department for three years. Prior to his job in Bryant, for five years he worked for another police agency that did not participate in a Christmas shopping event.
"Coming here and getting to do it is amazingly rewarding," Pruitt said. 
Last year, troopers from Arkansas State Police, as well as officers from Union Pacific Railroad, joined forces with the Bryant officers for the event. 
Because of the success of the 2018 Beards and Badges fundraiser, more than 50 children were able to participate. 
Along with officers personally raising money, Pruitt commended local businesses for their support. 
"We've been blessed with a lot of local businesses who really support what we're doing and give large donations to what we're doing," Pruitt said. 
Last year, the department raised about $12,000, which was more than ever raised before. 
Pruitt and other officers hope to raise the same amount or more this year. 
The department began the fundraiser in 2016 after officers heard at a conference of another department doing a similar program. 
Since the officers aren't usually allowed to grow beards, they were excited and eagerly participated in the fundraiser. 
"It was like Christmas for the officers," Pruitt joked, saying that the program was "wildly successful."
This year's shopping event is scheduled for Dec. 12 at the Bryant Walmart. 
The organization would like to have all donations turned in by Dec. 1. 
Along with fundraising for Santas with Badges, the FOP also provides funding for a back to school shopping event. During Putting Kids Feet First, Bryant officers help students shop at Shoe Carnival for a new pair of shoes. 
The FOP is made up of officers from the department. The organization provides community outreach programs as well as supporting officers and their families, Pruitt said.