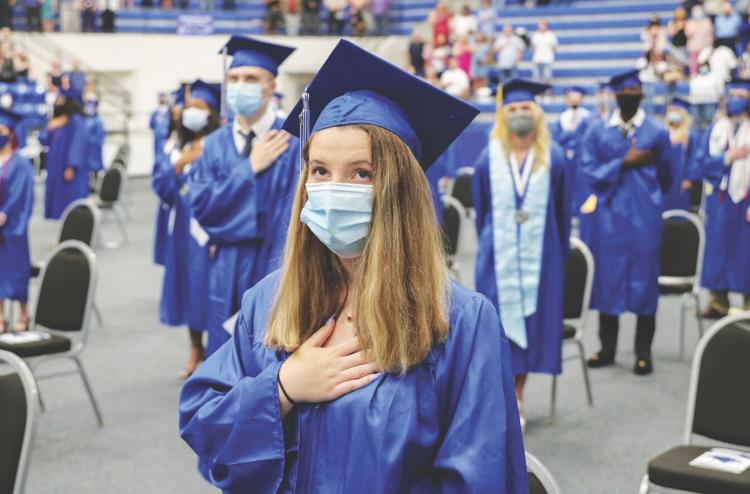 The Bryant Board of Education has voted to require children Pre-K3 through 12th grade wear face coverings. The decision was made during the board's regular meeting Thursday.
The board was presented two resolutions to adopt. Resolution A would require all students, faculty and staff to wear face masks.
Resolution B would only require fourth grade and older wear them.
"I know this can be a very hot topic," said Superintendent Dr. Karen Walters.
She showed a slide where both the Arkansas Chapter of the American Academy of Pediatrics and the Arkansas Department of Health recommends the mask for children under the age of 10.
"ARAAP suggests an even stronger requirement in schools for mandatory K-12 student and teacher masks, with strong consideration given to requiring them for Pre-K3 and 4," a July press release said.
Walters said when surveyed, the majority of teachers were in favor of the requirement. The numbers went up when only the elementary teachers were taken into account.
There will be exceptions for children who have documentation from a doctor saying they cannot wear a mask. Walters emphasized only documentation from a doctor will be accepted, not notes from parents.
"I hate that the younger students have to wear them," Walters said.
The schools will plan in breaks to socially distance to allow younger children to remove the masks so they will not have to wear them all day. They also will not be required during recess.
Staff and teachers will also need a doctor's documentation.
Board members Kim Billingsly and Dr. Tyler Nelson, who are both medical professionals, emphasized for adults that the exceptions should be rare. Nelson said he has patients with COPD who can wear a mask without problems. Both said there are not many reasons an adult would have a problem with a mask.
Assistant Superintendent of Elementary Education Pam Kenny said she does not see it as an issue for the kindergarten students because the first few weeks are spent training the students to follow routines and she believes mask wearing will just become part of that routine.
She added that teachers and pullout educators, such as for art and music, have already begun discussing creative ways to give students the chance to take a break from their masks such as doing art on the sidewalk outside or having children sit along the wall outside for reading. Students will not wear a mask during PE.
The board approved Resolution A unanimously, with Nelson voting remotely via phone.
Currently, 15 percent of the district has chosen the virtual option for school in the fall, but Walters said this added requirement may affect some parents' decision. Parents have until 11:59 p.m. Monday to either change from the blended learning option, which will be onsite, to the virtual option. Parents who did not fill out a survey but now want to select the virtual option, will also be able to do so. The link to the survey is available on the Bryant Public Schools Facebook page and at www.bryantschools.org.
Walters said the district can only give parents until Monday because the district has to make final decisions about schedules and staffing for both blended and virtual learning.
More about the school board meeting, including procedures and safety protocols, will be in an upcoming edition of The Saline Courier.