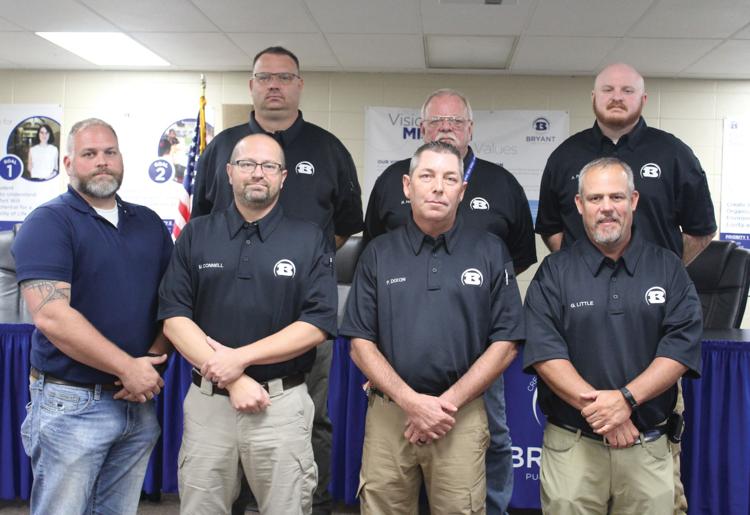 Beginning this school year, the Bryant School District will have six commissioned school security officers on staff based on a recommendation from the Arkansas School Safety Commission. 
In November 2018, the commission issued a list of recommendations for schools across the state. 
"If financially practicable, schools should ideally have at least one SRO for each campus," according to the commission's recommendation. 
The district currently has eight school resource officers whose salaries are shared between the city and the district. 
Asking the city to cover the cost of additional SROs would put a "financial burden" on the city, said District Security Coordinator Adam VanVeelen. 
"We wouldn't ask that of the city," he said, adding that the SROs that currently work in the district are "phenomenal" and "already give so much."
Instead, the district decided to hire six commissioned school security officers. The district received more than 40 applicants for the positions. The security officers who have past law enforcement experience after receiving 60 hours of training were licensed through Arkansas State Police. 
The officers have more than 60 years combined of law enforcement experience in agencies across the region. 
While SROs will be stationed at secondary schools, security officers will be located at the elementary schools to protect students. 
By having an officer on site, the district hopes to deter bad activity, and if something does occur, the officers can respond quickly.
During the interview process, district officials also took into account applicants' attitude toward children since they hope the officers will serve as mentors and make a positive influence on the students, VanVeelen said. 
Anthony Payne, who has worked for the Saline County Sheriff's Office and the Saline County Circuit Court, said he decided to become a security officer to be a role model. 
Pete Dixon said he is looking forward to having the opportunity to make a positive impact on students while still being in law enforcement which is "in his blood."
The security officers have already begun building relationships with the staff and students at their schools. They attended school professional development sessions and met parents and students during open house. 
"We're in this together," VanVeelen said. 
The officers will be involved in assemblies and will talk with students on the playground.