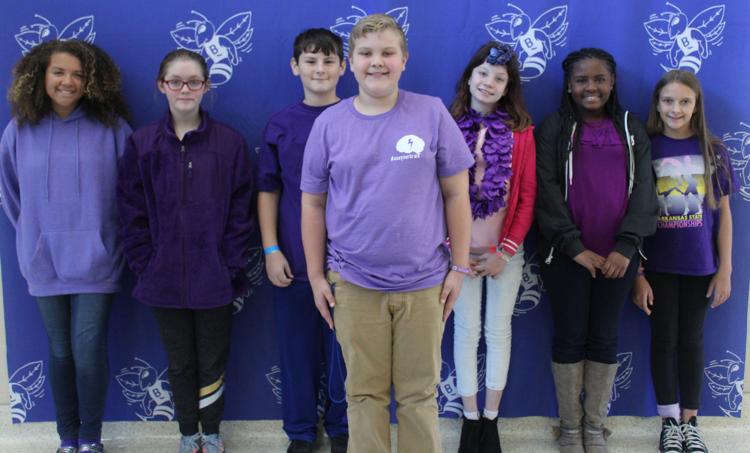 After learning in March that he is epileptic, a Bryant student is hoping to raise awareness and educate his friends and the community about his diagnosis. 
Braxton Johnson, a sixth grader at Bryant Middle School, had a seizure at his home in January. After a visit to Arkansas Children's Hospital and several tests, Braxton received his diagnosis. 
"I want my friends to know I can still do everything they can do, I just have to modify some things," he said. "I think of it as an opportunity to share your story."
He explained that the condition causes the brain to have abnormal electrical discharges. 
According to the Epilepsy Foundation, 1 in 26 people develop epilepsy in their lifetime and each year about 1in 2,000 people develop epilepsy. 
Epilepsy is currently the fourth most common neurological condition that affects more than 65 million people worldwide. 
To prevent seizures, Braxton has to take medication and he tries to limit his caffeine and sugar intake. Police lights, stobe lights, blowing up a balloon or fire alarms can also cause him to have a seizure. 
Other triggers for him include anxiety, sleep deprivation or eating too much protein, said his mother, Jennifer Johnson. 
His mom said their family has had to learn how to make adjustments to everyday life. 
"Things just like taking a shower have changed," she said. "We're getting used to our new normal."
Not all seizure are the same. Along with having Tonic-clonic seizures, also known as grand mal seizures, Braxton also has absence seizures. 
"I may look like I'm daydreaming or my eyes may flutter back and I may stumble on my words or lose my train of thought," he said.  
In honor of Epilepsy Awareness Month, Bryant Middle School students recently wore purple shirts to support Braxton. 
Through this experience, he has learned that another student at the school was also diagnosed with epilepsy. 
Jennifer Johnson said it has been amazing to see the support her child has received at school. 
Braxton was very shy and didn't want to talk about his diagnosis, but with support from others he has become more open about sharing his experience, she said. 
Braxton was recently featured on the school's newstation. He discussed the condition and explained to students how to respond to a person having a seizure. 
He told students to stay with a person until the seizure is finished. Time the seizure and notify a teacher. Finally, he said to make sure the person is on their side and talk to them to reassure them. 
In his free time, Braxton said he enjoys playing basketball, riding his bike and shooting his bow. 
Braxton is the son of Jennifer and Brandon Johnson. He has two siblings: Jace, 3, and Brayden, 16.
More information about epilepsy is available on the Epilepsy Foundation's website.