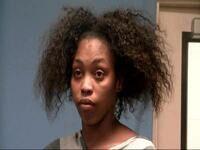 Authorities have made an arrest in the death of a child who was allegedly thrown from a car window on westbound Interstate 30 near Exit 117 in Benton on Tuesday.
According to Saline County Prosecutor Chris Walton, Whitney Turner-Tyson, 30, of Little Rock was arrested in the case.
She has been charged with capital murder, a class Y felony, and child endangerment, a class D felony. If convicted, Turner-Tyson could face the death penalty or life in prison.
Turner-Tyson was denied bond by Judge Josh Newton in Saline County District Court on Wednesday. She was represented by public defender Gina Reynolds, while Walton appeared on behalf of the state.
Walton stated that Turner-Tyson does have a right to ask for a bond reconsideration at a later date. Her next court appearance is set for 1 p.m. Nov. 17.
According to a statement from the Arkansas State Police on Tuesday, troopers responded to the call at 8:53 a.m. after a motorist reported a child had been dropped from a moving vehicle.
The child died after troopers were on the scene and awaiting emergency medical care to arrive, the statement said.
Criminal Investigation Division agents questioned witnesses in this case.
According to Walton, the case is still under investigation and no further information is available at this time.
More will be reported as it becomes available.