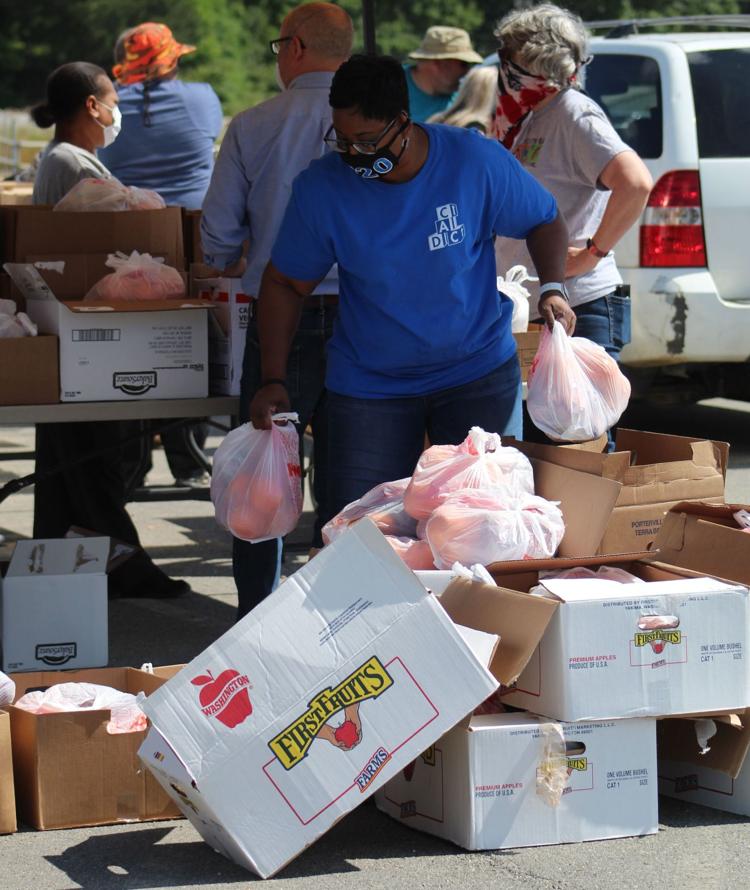 The Central Arkansas Development Council joined with a number of other businesses and organizations to provide emergency food boxes to more than 600 families and individuals Wednesday at the Saline County Fairgrounds.
"With COVID-19, the CADC thinks this is just another part of our mission," said CADC Commodities Program Manger Evelyn Reed. "It's to alleviate the causes and condition of poverty."
Reed, who also serves on the Benton City Council, added that the CADC knew that something more had to be done to help people during the crisis.
"People are having a hard time getting food," Reed said. "Mr. (Randy) Morris (CADC Chief Executive Officer) called all of the program managers together and we got together to brainstorm and we came up with this idea."
Food drives similar to the one held in Saline County will be held in 19 counties across the state that the CADC serves.
Each emergency food box included more than 50 pounds of food, including meat and vegetables, along with other food items, as well as items such as toiletries.
Other sponsors of the event who donated time, finances, volunteers or items included Sysco, United Healthcare, Riverside Box Supply, Tyson Foods Inc. Regions Bank, Big Red Stores, SMC Packaging Group and Everett.
The next event will be held today in Pulaski County and is expected to serve more than 2,000 people. Clark and Hot Spring counties will be served May 22. Miller County will be served May 27 and Hempstead County on May 28. The final event will be held in Nevada County on May 29.
"We just felt like we had to do something," Reed said.
Events are held from 10 a.m. to 2 p.m. and boxes are available on a first-come, first-served basis. Photo ID's are required and those picking up boxes must meet income requirements. Boxes are handed out by volunteers curbside, noncontact delivery. Patrons must remain in their vehicles and are encouraged to make sure there is enough room in their vehicles for the boxes.
For more information, contact the CADC at 501-315-1121 or visit www.cadc.com.