Arkansas saw more than 1,200 new cases of COVID-19 during the weekend, according to the Arkansas Department of Health.
On Saturday, the state reported 727 positive cases, while Sunday saw a slight decline with 508. Arkansas reported 399 confirmed new cases Monday, the third straight day of decreasing cases. Eighteen of the new cases are among correctional facilities.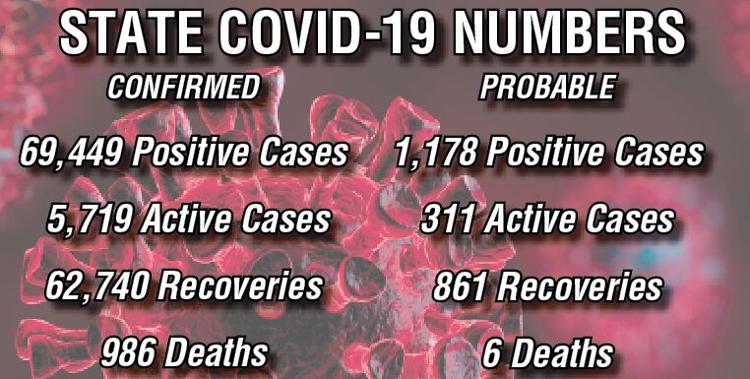 With 12 additional confirmed deaths reported Sunday and 10 more Monday, the state death toll is currently 986. However, ADH has begun to report probable cases in about every category regarding the virus, including six probable deaths, which brings the total to 992.
Of the deaths, 40 have occurred among Arkansas Department of Corrections prisoners, while 358 others were residents of nursing homes.
Those 65 years of age and older make up more than 72 percent of the state's death toll due to the virus. No one younger than 18 has died as a result of the illness in the Natural State.
Total confirmed cases of the virus is 69,449. However, an additional 1,178 are listed as probable, driving the state's overall total to 70,627.
Recoveries have risen to 63,601 statewide.
As for active cases, 6,030 are listed, including 311 probable cases.
Top counties with new cases Monday were Pulaski with 55, Craighead with 26, Jefferson with 25 Crawford with 22 and Faulkner, Sebastian and Stone all with 16 each.
According to wire reports, the actual number of cases in Arkansas is likely higher because many people have not been tested, and studies suggest people can be infected and not feel sick.
For most people, the virus causes mild or moderate symptoms, such as fever and a cough that clear up in two to three weeks. For some, especially older adults and people with existing health problems, it can cause more severe illness, including pneumonia and death.
Hospitalizations decreased slightly during the weekend, along with those on ventilators. However, five were admitted to hospitals Monday, for a total of 378. Patients on ventilators fell again, this time by four to 76. More than 4,700 have ever been hospitalized in the state due to COVID-19, while 603 total have been placed on ventilators since March.
Cases within public schools in the state has grown to 574, according to ADH. 
Among Saline County school districts, Bryant remains the only district with at least five active cases, currently with seven, according to ADH's most recent report (Monday). 
More than 1,000 active cases have also been reported among colleges and universities with most on the campus of the University of Arkansas at Fayetteville.
Reports also show discrepancies in the state-reported numbers and those from the U of A. The state is reporting 735 active cases while the school said Monday it has 334, according to wire reports.
Arkansas State University reported 187 active cases, more than three times as many as the state's number.
Testing saw another strong day Monday with 6,225 results coming in via PCR. An additional 986 antigen tests were also reported.
"We continue to see increased PCR testing numbers & this allows us to better determine where new cases are coming from," Gov. Asa Hutchinson wrote via Twitter on Sunday. "Mask up, keep your distance, and enjoy the rest of your weekend."
The positivity rate for PCR test results is currently 8.4 percent since the start of the pandemic, while antigen positives remain high at 18.6 percent.
Since March, the state has conducted a total of 835,335 tests, according to the latest ADH report.
Positivity rate among the 25-to-44 age group remains the highest at 34.1 percent, followed by 45-to-66 at 25.6 percent.
Currently, Saline County has had 1,790 confirmed cases and 52 additional listed as probable. Active cases are at 142 including nine probable findings. Recoveries have risen to 1,683, with 42 of those also listed as probable cases.
Confirmed deaths among local residents are at 16 with an additional case as probable.
The Saline Courier continues to follow the COVID-19 pandemic closely daily.