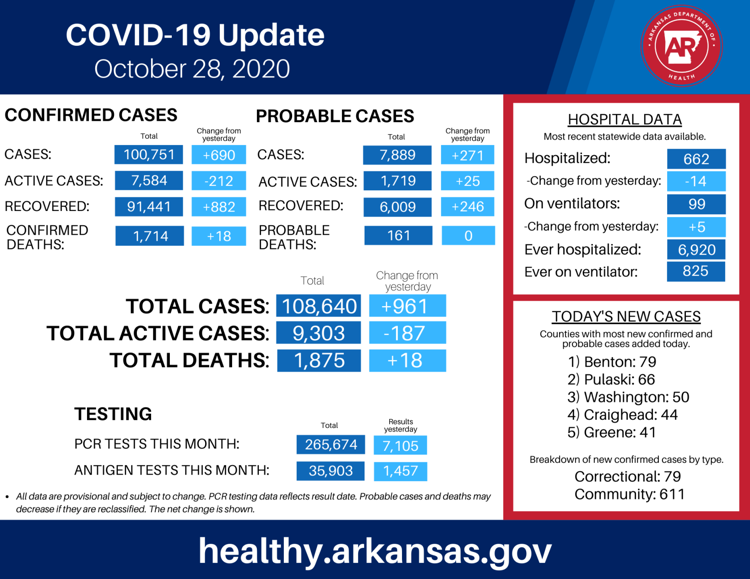 The Arkansas Department of Health reported 690 new confirmed cases of COVID-19 on Wednesday for a confirmed cumulative total of 100,751 with 7,584 confirmed active cases and 91,441 recoveries.
Hospitalizations decreased by 14 to 662 with 99 currently on ventilators.
Deaths increased by 18 to 1,714.
According to the ADH, the state had 271 new probable cases for a probable total of 7,889 with 1,719 active, 6,009 recovered and 161 probable deaths.
The state received results for 7,105 PCR tests and 1,458 antigen tests.
"Today we reached over 300,000 total tests for the month of October," Gov. Asa Hutchinson said in the release. "This means that over 10 percent of the population of Arkansas was tested for COVID-19 in the past 27 days. This could not have been accomplished without the remarkable work from the Arkansas Department of Health and its partners."
The counties with the most new cases are Benton with 79, Pulaski with 66, Washington with 50, Craighead with 44 and Greene with 41.
Saline County has had 2,884 total cases — 2,623 confirmed and 261 probable. There are 262 active cases  — 195 confirmed and 67 probable. Recoveries are at 2,591 — 2,339 confirmed and 192 probable. Deaths are at 30 —28 confirmed and two probable.
Across the country there have been 8,833,396 cases with 3,487,666 recoveries and 227,320 deaths.