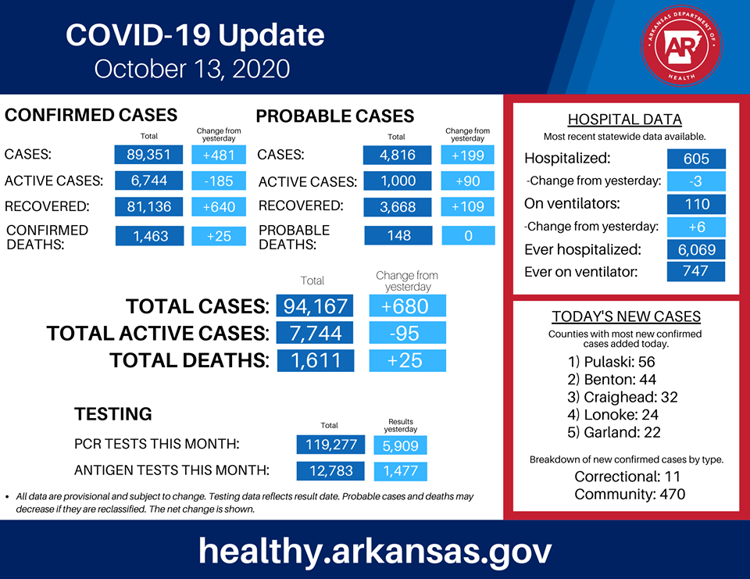 The Arkansas Department of Health reported 481 new confirmed cases of COVID-19 today, for a cumulative total of 89,351 confirmed cases with 6,744 active and 81,136 recovered.
Hospitalizations went down by three to 605 with 110 on ventilators.
Deaths rose by 25 to 1,463.
ADH reported 199 new probable cases of COVID-19 for a probable total of 4,816 with 1,000 probable active cases, 3,668 recoveries and 148 probable deaths.
The state received results for 5,909 PCR tests and 1,477 antigen tests.
The top counties with new cases are Pulaski with 56, Benton with 44, Craighead with 32, Lonoke with 24 and Garland with 22.
Saline County has had 2,443 cumulative cases — 2,311 confirmed and 132 probable. Active cases are at 239 — 215 confirmed and 24 probable. There have been 2,179 recoveries — 2,073 confirmed and 106 probable. The county has had 24 deaths — 22 confirmed and two probable.
Across the country, there have been 7,836,680 cases with 3,106,769 recovered and 215,549 deaths.
Gov. Asa Hutchinson announced a 60 day extension of the State of Emergency for Arkansas.
A story on the governor's weekly briefing will be in Wednesday's edition of The Saline Courier.