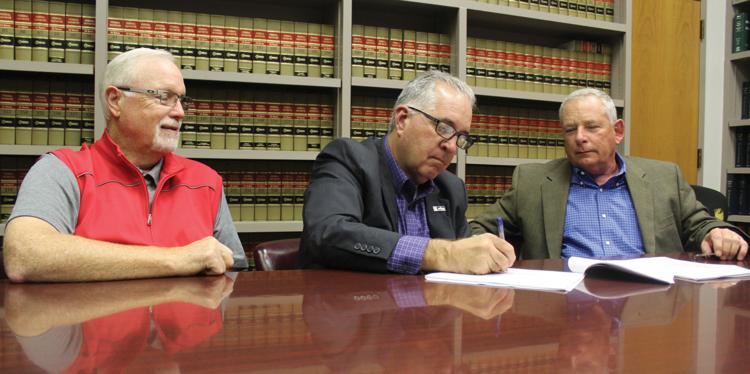 Construction on the Saline County Career Technical campus will begin soon with CDI Contractors winning the bid for the project. 
CDI submitted a bid for a project at a cost of $27,899,000 and timeline of 515 days. The center is expect to be open for the 2021-22 school year. 
The center will be located on Mountain View Road near Exit 114.
It will offer new opportunities for students in six school districts — Benton, Bryant, Bauxite, Glen Rose, Harmony Grove and Sheridan.
Students will have the opportunity to take classes in 10 pathways. In seven of the pathways, upon graduation, students will have the needed certification to earn a job and begin a career. 
The campus is 140,000 square feet and will be separated into four major areas. Lab spaces for the various pathways will be constructed, as well as multipurpose classrooms and a common area featuring an auditorium designed to fit 400 students. 
Mark Beach, vice president and chief operating officer for CDI Contractors, said his company is "absolutely thrilled" to construct the center. 
He called the center a "necessary and exciting opportunity for the students in the six school districts."
As a Saline County resident, Beach feels the project will benefit the entire county and make it more competitive for businesses. 
When asked why the company was selected for the project, County Judge Jeff Arey and Executive Director of the Saline County Economic Development Corporation Lamont Cornwell pointed to the company's lowest bid along with recent successful projects.
Projects the company recently completed in Saline County include Everett Infinity, Kroger Marketplace, Benton Event Center, Benton Fire and Police Substation and Benton River Center. 
CDI was one of five contractors that submitted bids for the projects. Three of the bids were within the project budget. 
Other companies who submitted bids were Flynco, Baldwin & Shell, Nabholz and C.R. Crawford.
The estimated total cost for the center is about $40 million. 
The construction of the new center is being funding through a countywide sales tax. The 3/8-cent tax is temporary and will end once the bonds used for the construction costs have been paid off. 
Arey and Cornwell expressed their appreciation to voters for their support of the project.