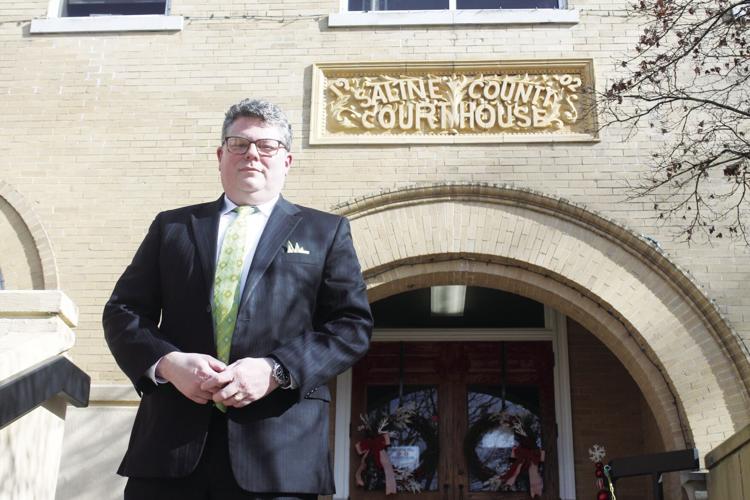 Longtime Benton City Attorney Brent Houston will trade council meetings for judge's robes when he begins his tenure as a Saline County Circuit Court Judge on Friday.
"I hope to help the community by showing respect to the people who appear before me, including the parties, witnesses and attorneys," Houston said. "It will always be important to hear what they have to say, along with giving thoughtful consideration to the facts, arguments and law in each case. I will do my best to treat people fairly and to always seek justice."  
Houston graduated from high school in Arkadelphia in the mid-1980s, along with local attorney Paul White. After graduating from Ouachita Baptist University with a bachelor of arts degree and a triple major of accounting, economics and business administration, Houston went on to the University of Arkansas where he received is Juris Doctorate in 1992.
"After law school, I practiced law a short time in Fayetteville," Houston said. "I then left private practice for a few years and worked for various businesses. I became a Saline County deputy prosecuting attorney in the late 1990s. After a couple of years, I went into private practice in Benton with Ray Baxter. 
Houston was elected as city attorney in 2006, the same year the law firm of Jensen, Young & Houston PLLC was established. 
In his new role, Houston said he is most looking forward to the new challenges the position will bring.
"I am also looking forward to seeing the courtroom from the other side of the bench, both literally and figuratively," Houston said.
He added that although he is ready for this new path, there are aspects of both his former positions that he will miss.
"As far as my private practice, I will miss being able to help clients solve their problems, sometimes in court and other times outside the courtroom," Houston said. "Former clients have sent me many cards thanking me for helping them over the years. I kept every card in my desk drawer. Helping others is an important part of my Christian walk.
"With respect to being city attorney, I will miss playing a behind-the-scenes supporting role in making projects of the mayor and council become a reality," Houston said. "I am happy to have been a small part of such projects as the Benton Event Center, Riverside Park, the Shoppes of Benton, the expansions of Alcoa and Military roads and the City of Benton Farmers Market. I will also miss working with the elected officials such as City Clerk Cindy Stracener, who constantly encouraged me to write better ordinances and resolutions for the Council, and Council Member Steve Lee who has been the source of many enjoyable phone calls over the years.  Lastly, I will miss working with the many dedicated employees of the city. Tina Coston, who has been responsible for organizing many of the successful special events of the city the past several years, (Benton Fire) Chief Bill Ford and (Benton Police Chief) Scotty Hodges, both of whom worked diligently to provide the in best public safety for our community, and (Benton Utilities) General Manager David Vondran to name just a few. "
Houston understands the gravity of the role he is taking and knows that he has big shoes to fill.
"With three judges retiring, who collectively had at least 70 years of experience between them, I believe it was important to have well-qualified attorneys take on their responsibilities," Houston said. "People's lives are affected when judges make decisions. Some of these decisions may have an impact which will affect a family for a generation. I understand being a judge is more than just a job or a title, it is a responsibility to treat people fairly and to see that our constitutional rights are always protected. With close to 30 years of experience as an attorney, I have tried every type of case I would preside over as a judge. I believe I fit the bill for what the county needed to replace Judge (Grisham) Phillips."
Houston also took the time to acknowledge those who have helped him throughout his life.
"I have many people to thank who have helped me with my journey in life. So many I cannot possibly list them all," Houston said. "A few that come to mind are Lisa Houston, my wife of 30 years, who is a constant source of love and encouragement; my children, Harrison and Harmony, who love their dad enough to spend many weekends knocking on doors and writing cards for my campaign; my mom, BJ Houston, a former deputy prosecutor and a university professor, who taught me to always seek justice and to respect all people regardless of our differences; my grandfather, Louie Garner, who taught me to give good measure and treat people fairly; a former employer, Sen. Percy Malone, who taught me much about politics when I worked for his company; former Benton Mayor David Mattingly, who taught me that public servants should always strive to improve our community; Ray Freeman, who made me a better city attorney by his tenacity in verifying city tax money was spent correctly; my law partners, Terry Jensen and Perry Young, who supported me fully during the campaign and who taught me much about the practice of law; Supreme Court Justice-elect Barbara Webb, who hired me to serve as a deputy prosecutor in her office, which brought me to Benton; Ray Baxter, who gave me an opportunity to have a private practice in Saline County; Circuit Judge Robert Herzfeld, who has spent a significant amount of time helping both me and Judge-elect (Josh) Farmer be prepared to serve in January; former Benton Mayor Rick Holland, who helped train me to be a city attorney; and finally, Council Member Bill Donnor and my law partner Terry Jensen, both of whom taught me the value of friendship.
"I also want to thank the many people who helped me during my campaign, Hank Herzfeld, who helped organize many parts of my campaign; the people who carried petitions for me; the local attorneys who supported me; the people and businesses which allowed me to have signs on their property; the many people from Northside Church of Christ who made calls for me; the people who spent part of their day holding signs on election day; and the many people who publicly endorsed me, including Mayor Tom Farmer, whom I believe cares a great deal about the city and his service to the city."    
During the most recent meeting of the Benton City Council, Farmer thanked Houston for his many years of service. Calling him a "special man," Farmer also joked that Houston promised him when he took office that he would do his best to "keep him out of jail."
"Mr. Houston, I cannot say enough good things," Farmer said. "You are just a benefit to this community. You are a plus to this organization, the city, and I know you are going to be a great judge."
Houston will be sworn in Friday.