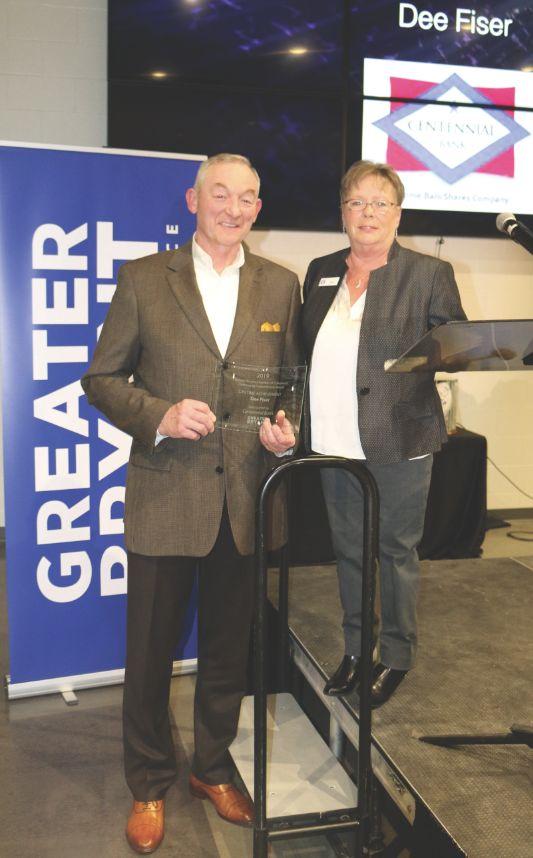 During the Greater Bryant Chamber of Commerce's Winter Banquet on Thursday, outgoing Chamber Board Chair Tracy Elliott announced the Lifetime Achievement Award. 
She told the crowd she was proud that award-winner Dee Fiser is a personal friend and her neighbor. 
"He is a very good friend to many in this room," she said. 
He previously owned Fiser Kabota and now owns both Skylark Manor and Fiser Development. 
The Chamber played a video of Fiser's family talking about him and why he deserved the award. 
His son, Justin Fiser, told a story about when his father still owned Fiser Kabota and there was a year where the roads froze. Dee Fiser picked up area doctors and drove them to the hospital to ensure they were there to take care of those in need. 
His daughter, Yoni Johnson, mentioned that he is known as a jokester but he really cares about people. 
"He has a soft spot for people in general," Johnson said. 
His wife, Masami Fiser, said he is loved and respected by everybody.
"He is just a good guy," she said. 
After the ceremony, Masami Fiser said she is proud of her husband and he deserves it because he works hard. 
The family joked about how hard it was to sneak around to make the video without Dee Fiser knowing. 
Dee Fiser said he was shocked by the award. As Elliott was speaking, he said he was trying to figure out just who she was talking about. 
"It is always nice to be recognized by your peers," he said.
He added he usually tries to stay behind the scenes. 
Elliott said Dee Fiser deserves the award because he has done so much for the community. 
"He truly is a wonderful guy," she said, adding he has a great family. 
Chamber President and CEO Jason Brown said said Dee Fiser has not only been instrumental in the community, but instrumental is founding the Chamber. 
He was on the board when the Chamber moved to its current location. He served as Chamber president in 1997. 
"We felt it was an appropriate honor," Brown said. 
He added that Dee Fiser is a leader in the business community. 
"We want to thank him for everything he has done for businesses around the county and everything he has done for the Bryant Chamber," Brown said.