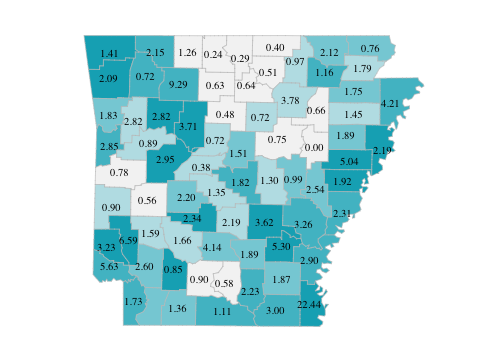 During the daily COVID-19 briefing Thursday, Gov. Asa Hutchinson announced city-level data will now be available through a partnership with the Arkansas Center for Health Information.
ACHI CEO Dr. Joe Thompson said the cumulative data for the city level was released two weeks ago. Now active cases will be available for 100 communities at www.achi.net. Another 400 communities, which have less than 10 cases, will be listed if they have at least one case, but a specific number of cases will not be listed due to privacy concerns.
Acting Secretary of Health Dr. Jose Romero announced the Arkansas Department of Health is rolling back its requirement that all patients having elective surgeries have a COVID-19 test prior to the surgery. The test is still recommended, but will be up to the provider or institution.
The state has 791 new cases of COVID-19, bringing the cumulative total to 41,559 with 6,580 active. Hutchinson said the number of active cases has seen a drop.
Hospitalizations went down four to 504 with 101 on ventilators, also a decrease. Deaths increased by eight to 442.
The top counties with new cases are Pulaski with 73, Sebastien with 57, Benton with 47, Washington with 37, Independence with 34, Jefferson with 31, Pope with 30, Craighead with 29, Mississippi with 23 and Faulkner with 21.
Saline County has had 809 positive cases with 165 active, 640 recovered and four deaths.
The United States has had 4,464,906 cases with 1,389,425 recoveries and 151,496 deaths.
Over the previous 24-hours the state received results for 5,998 tests. The state has had 181,456 tests in July, just over 6 percent of the state's population.
Hutchinson reported on the antigen tests that have been performed since June 11. There were 5,084 tests. Of those, 548 were positive, 4,506 were negative and 30 were inconclusive.
Hutchinson emphasized positive antigen tests are only considered presumptive positive because it is only 95 percent accurate. Anyone with a positive antigen test needs to take a PCR test.
More information about today's briefing will be in Friday's edition of The Saline Courier.