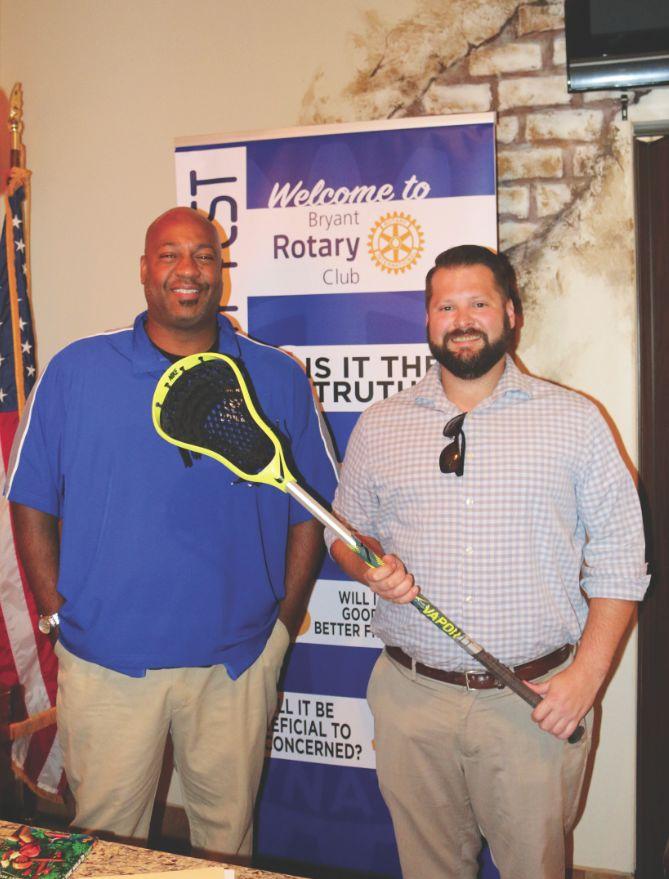 The boys head coach and director of Bryant Lacrosse both spoke to the Bryant Rotary Club about the club team at Luigi's Pizza and Pasta on Thursday. 
"We look forward to giving kids another opportunity," said Brian Ruby, who is the club director along with his wife, Melissa.
He emphasized that the team is not associated in any way with Bryant School District, though there are staff members who are team supporters. 
He described lacrosse as fast paced and fun to watch. 
He said he and his wife's goal when starting the club was to help students stay out of trouble and give them the chance to give lacrosse a try. 
Because the school does not have a lacrosse team, Bryant Lacrosse has been part of forming the Arkansas High School Lacrosse League. It is not Arkansas Activities Association sanctioned. 
Ruby wants to get a program started in Benton, so there can be a community rivalry like football. He has been in talks with people from Benton about getting one started. 
"Lacrosse is the fastest growing sport in the last 10 years," Ruby said. 
He said at the college level, there are 619 mens and 769 womens teams. Those colleges offer scholarships which have less competition for them than other sports such as football. 
Ruby said lacrosse is also great for athletes to cross train. 
The club is in need of coaches, referees and sponsors. It is a nonprofit organization. 
Boys Head Coach Alex Wilkinson pointed out that lacrosse is also safer with less chances of a concussion than other contact sports. 
He said most people don't know anything about lacrosse. He has been a coach for 10 years. He played lacrosse in college. 
In the league there are eight to 10 boys teams and six to seven girls teams.  
"As soon as (kids) see it, they want to play," he said, adding it is easy to pick up. 
In the Club's first year, Wilkinson said, they have had players get multiple college offers.
Wilkinson said lacrosse is a spring sport that has a similar season to baseball. They use a football field-sized field. Boys and girls fields are slightly different in size so they use one large field that can accommodate either. 
He explained that boys lacrosse is more of a contact sport where the players do get hit, but girls lacrosse is more like soccer. 
Both boys and girls lacrosse uses a solid rubber ball and a stick with a net. The boys also use a helmet and padding. 
The league is geared toward ninth through 12th grade players with eighth graders playing junior varsity. 
Wilkinson and Ruby both hope to eventually have lacrosse for younger players. 
They are testing a pilot program by providing Collegeville Elementary School with soft sticks and balls for P.E. Eventually, they hope to provide them to all the schools. 
Games are 10 verses 10 and quarters last 12 minutes each. 
Wilkinson said there are currently around 20 players, but ideally he would like to have 25 to 30. Any more and they would have to look at having multiple teams. 
The deadline to sign up for spring is Oct. 15.