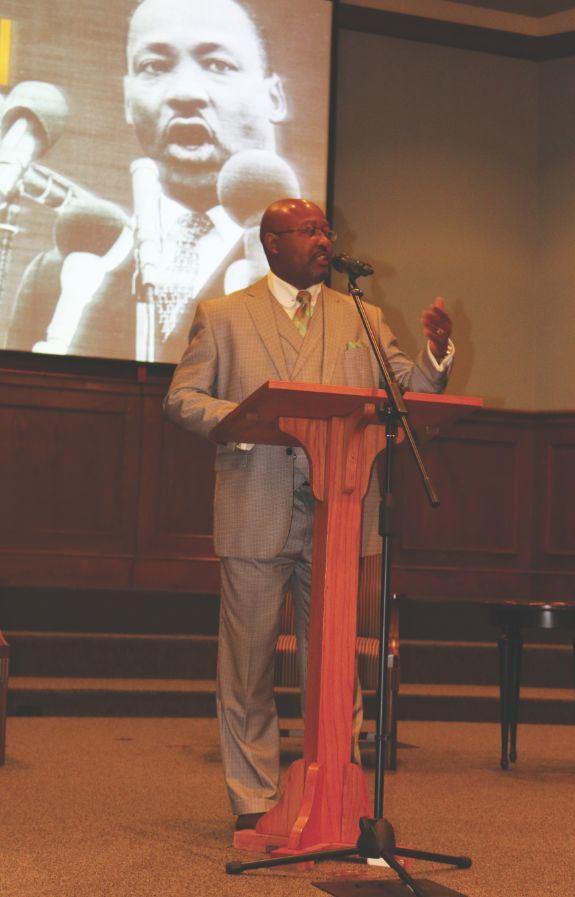 A partnership of the Central Arkansas Development Council and the Ralph Bunch Community Development Council organized the Martin Luther King Jr. Prayer Breakfast, followed by a day of service on Monday in honor of the late civil rights leader. 
The breakfast was held at First Baptist Church Benton. 
Christopher Threatt spoke on Reflections on Dr. King. He spoke about evolution and maturation. Threatt is a teacher. 
He said King died at 39 years old. His students think of 39 as old. He added that most high school students only think of the "I Have A Dream" speech, which was given many years before his death, when they think of King. Threatt said in a book of King's speeches, which is 1,000 pages, that speech only takes up two to three pages. 
Threatt reflected on two other sermon's of Kings, "Unfulfilled Dreams" given around a month before his death, and "I See the Promised Land," which was given the night before. 
In the Unfulfilled Dreams speech, King focused on King Solomon's dedication of the temple, which had been his father's dream, but he was completing. Threatt said King understood it was not as easy to bring his dream to pass and it may fall to others to finish once he was gone. 
"He understood he was part of something bigger," Threatt said. "He knew that though he might not finish the journey, he was on the right road."
Threatt explained King started a journey that it is up to those living today to finish. 
After Threatt spoke, there were prayers for community, military, schools, justice, the nation and unity. 
Sue Shults gave the challenge. She told the crowd this year's theme, "We Are Better Together," came from Elder Willie Barnes Jr., pastor of Temple Church of God in Christ. 
She talked about the things people think of that naturally go together, but she wanted the audience to consider what about things that don't. 
She talked about people coming together from different backgrounds, schools, careers and more. 
Shults said people had a great example to look at in the 12 disciples, 12 very different men who didn't fit naturally together. 
"Yet Jesus called them together," she said, adding they came together for a purpose and they grew and learned together. 
She said said the people in the audience come from different backgrounds, different races. Some people live a dream and others have experienced nightmares. 
She thanked those who lead those times of nightmare for standing up for what is right. 
She said now people need to come together to be the "salt of the earth," to make things better. 
Shults said there are some people in the dark due to poverty, things that happen or even unkind acts. 
There are others who continue to hold on to the roots of hate and prejudice. 
"They cause the dark," she said. 
"They need to see we are better together."
The closing remarks came from Barnes son, Karl Barnes'. He said the Bible teaches that out of the heart issues life. If the heart is right, people will love one another and treat each other right. 
After the breakfast, groups gathered at the Ralph Bunch Community Center. Some volunteers picked up trash in the community. Another group raked leaves and cleaned up yards. The third group put together care packages and delivered them to Alcoa Pines Healthcare and Rehabilitation, Waverly Heights Retirement Village, Amberwood Health and Rehabilitation and The Manor Senior Living Community.