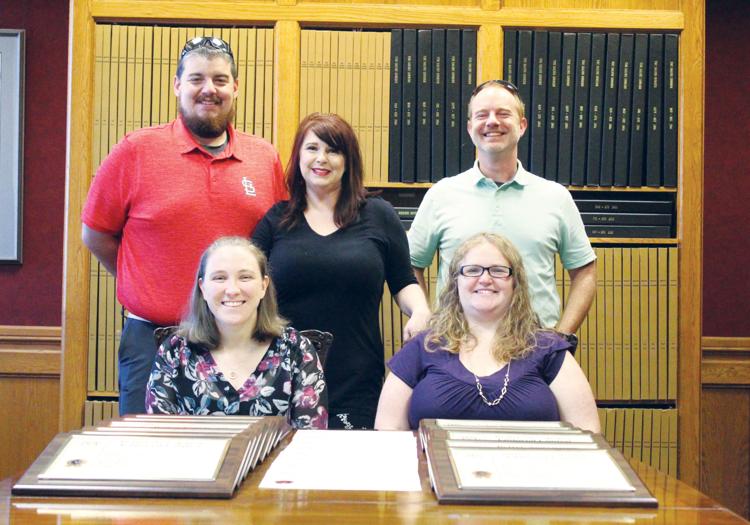 The Saline Courier's editorial staff is once again atop the Arkansas daily newspaper world after earning its fifth General Excellence recognition in the past six years.
The top award for small and medium dailies throughout the state was presented Saturday during the annual Arkansas Press Association Better Newspaper Editorial Contest luncheon at Hotel Hot Springs.
The ceremony closed the four-day APA conference.
"It is a testament to the skills and hard work of our small news team to have been recognized by our peers as the Best Small to Medium Daily paper in the state," said Publisher Kelly Freudensprung. "I have never worked with such a dedicated and respected news team."
The Courier captured 14 top honors — including General Excellence — along with 12 other awards.
Sarah Perry earned the coveted I.F. Stone Award for investigative reporting, competing against all daily publications throughout the state.
The award is in honor of "investigative reporting that uncovered the truth and exposed the abuse of power to readers of the Saline Courier and its community."
Her series of investigative-style reporting was regarding former Bryant Mayor Jill Dabbs.
"I am extremely honored to receive this award. It is humbling to know that the judges thought so highly of my work that they awarded me," Perry said. "Journalists are tasked with being watchdogs for the community. This award shows that our team at The Courier takes that responsibility seriously."
"Sarah Perry pulled out all the stops during her investigation last October, leading up to the November election for Bryant mayor. She talked with dozens of people, submitted numerous Arkansas Freedom of Information requests and worked tirelessly to inform our readers of what was happening behind closed doors," Freudensprung said. "This proves the importance of a newspaper and their role as a watchdog for the communities the serve."
Perry also earned first place for Picture Page/Photo Essay, alongside editor Josh Briggs, for their Living Section layout from the Royal Players' production of "Newsies."
Perry, too, earned first-place finishes for Coverage of Education and Coverage of Health/Medical, both collaborating with reporter Elisha Morrison.
Briggs took home other top honors, including Sports Feature Story: "Coach refuses to let life's struggles define him;" News/Political Column: "Journalism's Darkest Day: 'You cannot stop us;'" General Interest Column: "The night I witnessed a miracle on I-440;" and Best Front Page: "Election Coverage."
Judges commented on Briggs' news column, saying "A well written commentary on a day most journalists, at one point, never thought could happen in the United States. The author's passion for his job is palpable and he points out just how important and courageous journalists are, given today's violent realities."
Morrison shined with a first-place finish for Coverage of Business/Agriculture, followed by freelance photographer Greg Davis who earned top finishes for Single News Photograph and Single Feature Photograph.
Guest columnist and former editor Brent Davis took first for Humorous Column with his piece titled "Working my way up to first chair at the organ recital.
"A nice read about family dynamics to which we all can relate," a judge said. "The columnist paints a vivid picture we all have recalling childhood situations that he didn't understand fully and then later, as we grow older, we get it. The writer cleverly sets up the reader with the recollection with the term 'organ recital' to be revealed at the end."
As a staff, the Courier earned first place for Best Website, rounding out the paper's high honors.
•Feature Story: Second place.
•News Story: Third place.
•In-Depth Series Reporting: Third place.
•Sports News Story: Second place.
•Sports Column: Third place.
•General Interest Column: Third place.
•Single Sports Action Photograph: Third place.
•Picture Page/Photo Essay: Second place.
•Coverage of Politics/Elections: Third place.
•Beat Reporter: Second place.
•Feature Story: Honorable mention.
•Sports News Story: Honorable mention.